Intriguing and/or terrifying news from the world of paintballing today, as it has emerged that an inventor in America has been granted a patent on a fearsomely powerful new paintball gun, powered by the same "bunker buster" principle as secret World War II Nazi superweapons.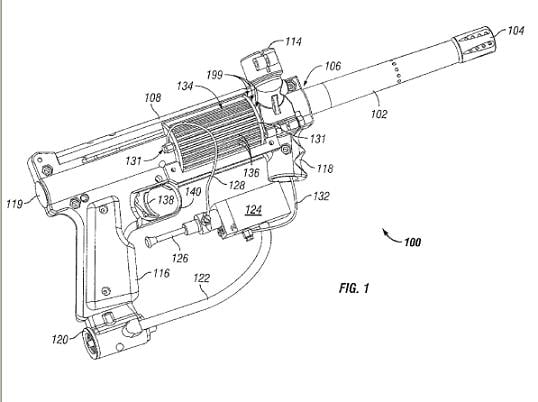 At my signal, unleash... paint.
US Patent number 7,665,396 was granted to Dennis Tippman of Fort Wayne, Indiana, last month, and noted by alert local news source the Fort Wayne Journal-Gazette. It lays out the fearsome details of Tippman's invention in lavish detail.
Essentially the idea is a simple one. Rather than propelling a paintball using old-fashioned compressed gas - for instance carbon dioxide - Tippman's weapon creates a powerful fuel/air explosive mixture within its combustion chamber. The deadly vapour is then touched off by an igniter when the trigger is pulled, generating a fearsomely powerful blast theoretically capable of firing a paintball through a mature pig.
This is the same principle used to power the "Argus" pulse engines which propelled the V-1 "Doodlebug" cruise missiles launched by the Nazis against London in the closing stages of WWII. It is also the same principle employed in military thermobaric "bunker buster" weapons such as Russia's devastating "Father of all bombs" - and in such frightful civilian products as the "Rodenator" burrow-blaster and the "Thunder Generator" sonic riot cannon.
Tippman's patent application suggests that he will regulate his "projectile launcher" so as to keep it in the realms of sub-lethal paintball force, instead exploiting the greater puissance of his technology to offer a much larger number of shots before reloading than compressed gas guns can.
Even so, the patent filing makes disturbing reference to a "Paintball Cannon", and the temptation to go for range, striking power and heavier paint warheads will no doubt be hard to resist. Heavy crew-served doodlebug pulse bomb splatter weaponry is all too likely as the paintball arms race hots up, we fear.
It seems unlikely to be a coincidence that Fort Wayne is also the town famous as the scene of the world's first exploding turnip bomb outrage. Sadly the UK's "Baldrick" bomb-disposal tool was not available on that occasion, and the deadly vegetable was "detonated with a water cannon".
Fort Wayne, Indiana: Plainly a dangerous place, one way and another. ®
Sponsored: Ransomware has gone nuclear