Mars Express skims past Phobos
ESA has close encounter with Red Planet 'rubble pile'
The European Space Agency's Mars Express yesterday skimmed past Martian moon Phobos at a distance of just 67km - the closest any manmade object has ever approached the "enigmatic" body.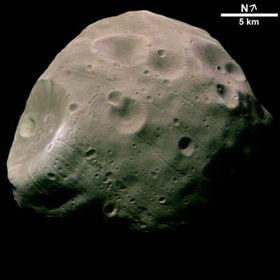 The flyby was designed to capture the "most exquisite data yet about the gravitational field of Phobos" by detecting the "subtle variations" in radio waves beamed from Earth to Mars Express and bounced back to ground-based receivers.
This data will prove useful in determining the exact nature of Phobos, thought to be a second-generation "rubble pile" which "coalesced in orbit after Mars formed, rather than forming concurrently out of the same birth cloud as the Red Planet".
Previous observations have shown that Phobos isn't dense enough to be a solid ball of rock, and must therefore must be comprised of around 25-30 per cent voids between its component "blocks".
The bad news for Phobos is that it will one day be once more reduced to rubble as it inexorably spirals down towards Mars.
Mars Express has previously captured some nice snaps of the moon with its High Resolution Stereo Camera (see pic), and future close encounters will further image the surface in high resolution.
The ESA has further details on its latest peer at Phobos here and more on Mars Express here. ®