The seller said it was a "priceless" item, and while bidding didn't quite reach infinity, one lucky bidder has now agreed to buy a "one of a kind" copy of Bandai's 1986 videogame Family Fitness Stadium Events for $41,300 (£27,102).
Developed for the Nintendo Entertainment System (NES), the game was released in Europe in 1988, and in the US the year before. The copy on offer on eBay was a US, NTSC copy still in its shrink-wrap and with its $29.99 price tag.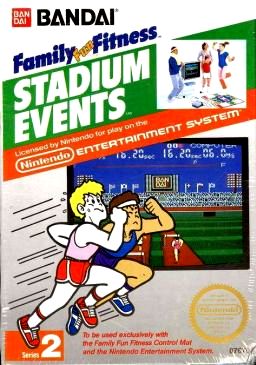 Stadium Events was not a success, however, and relatively few copies made it on to shop shelves. Production was limited, and these factors combined to make the title something of a rarity, particularly now more than 20 years on from its release.
Long pre-Wii, Stadium Events allowed players to engage in on-screen athletic events through the Family Fun Fitness Mat peripheral, later bought from Bandai by Nintendo and re-released as the Power Pad.
Sprints, hurdles, long jump and triple jump were among the ten events in which players could compete.
The competition for the game this time round saw the bids lead from $6.16 to $100 before hitting $9800 on the first day of the auction. Over the next ten days, bids shot upward and upward. ®
Sponsored: How to simplify data protection on Amazon Web Services