HP at storage crossroads
Plans to move downmarket, away from external storage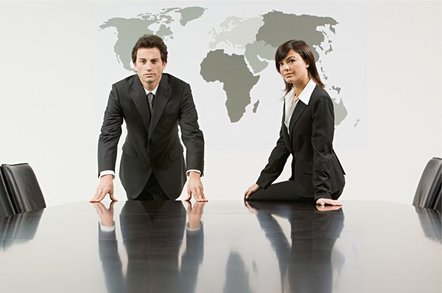 Comment In the rosy glow of better quarterly results from HP, one forlorn story of mediocre performance repeated itself. StorageWorks declined 3 per cent and EVA revenues fell 5 per cent year on year.
Shortly after Mark Hurd became HP's CEO in 2005, the StorageWorks division was in a mess, with a history of what we called embarassing financial misses at the time.
In May 2006 HP was 8,300 heads through a 15,300 staff cull and storage performance was healthy, as it was the next quarter. But revenue growth subsequently slowed to a less healthy 3 per cent in February 2007. It was okay for the rest of the year, although storage revenue growth lagged behind server revenue growth.
In September 2008, Gartner was logging HP as losing market share in the external storage market. HP briefly basked in Oracle's affections with its Exadata storage product that month, but got dumped shortly afterwards in favour of Sun.
Then in February 2009, with the recession, things went awry, with double dip revenue falls for printers, servers and PCs. Storage sales weren't as bad as all that though, declining 6.6 per cent year-on-year.
May 2009 saw another lousy quarter for servers and storage, with the StorageWorks division posting a 22 per cent drop in the quarter, to $829m, with midrange EVA disk array sales falling 21 per cent. Storage revenues dropped 21 per cent year-on-year in the next quarter too, then dropped again in the quarter after that.
Gartner had HP positioned near the cross-over line from the leaders square to the visionaries' quarter in its November 2009 mid-range storage magic quadrant.
Now storage has dropped once more, by 3 percent, there being no hike in revenues from David Donatelli getting StorageWorks under his belt at last.
Storage revenues at HP just under-perform, and have done, it appears, quarter after quarter after quarter. The commentary by Hurd and CFO Cathie Lesjak is very revealing. In the latest earnings call, Hurd talked about how he was tackling the storage business:
We have our top guys working on it... we think... there is going to be a pretty strong convergence in the server and storage market. We think there is a move towards more internal storage, away from external storage, which we think strategically really benefits the position we have in the server market. And we had a very strong quarter in the LeftHand product line, very strong. So, there are elements within storage that we actually feel quite good about. As I said, we got pretty strong push strategically on getting this lined up across the entire ESS product line as well as within storage itself.
The P4000 LeftHand iSCSI storage line is doing well, but the rest is not, and HP thinks external storage is going to be less popular in future as direct-attach gets the customer preference.
Sponsored: Minds Mastering Machines - Call for papers now open