Endeavour touches down at Kennedy
Shuttle home following 'outstanding mission'
Space shuttle Endeavour wrapped its two-week STS-130 mission to the International Space Station last night, touching down at Kennedy Space Center at 03:20 GMT.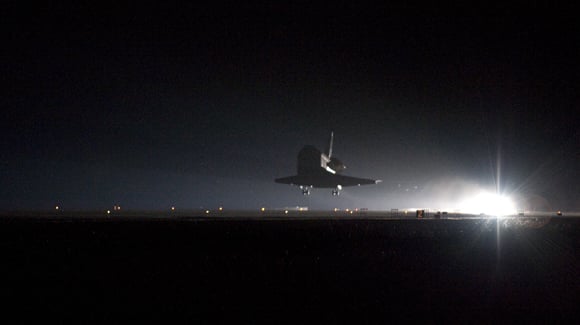 Shuttle Launch Integration Manager Mike Moses praised the crew's "outstanding job" of mating the Tranquility node and seven-windowed cupola to the ISS, enthusing: "It was an outstanding mission - I can't be happier with the success we had and look forward to repeating that on our next mission."
Astronauts Bob Behnken and British-born Nicholas Patrick conducted three spacewalks during the mission, racking up a total of 18 hours, 14 minutes outside the orbiting outpost
Ther next shuttle trip to the ISS is Discovery's STS-131, slated to lift off on 5 April carrying "a multi-purpose logistics module filled with science racks".
The shuttle era draws to a close with Atlantis's STS-132 mission on 14 May, Endeavour's STS-134 on 29 July and Discovery's STS-133, scheduled for launch on 16 September. ®