NASA's Wide-field Infrared Survey Explorer (WISE) has dispatched to Earth its first full-fat photos following a calibration shot released in early January.
WISE principal investigator, Edward Wright of UCLA, enthused: "We've got a candy store of images coming down from space. Everyone has their favorite flavors, and we've got them all."
Among the flavours on offer is this fetching snap of the Andromeda galaxy, captured by the spacecraft's "longest-wavelength infrared detectors", with 12-micron light shown here as orange, and 22-micron light as red: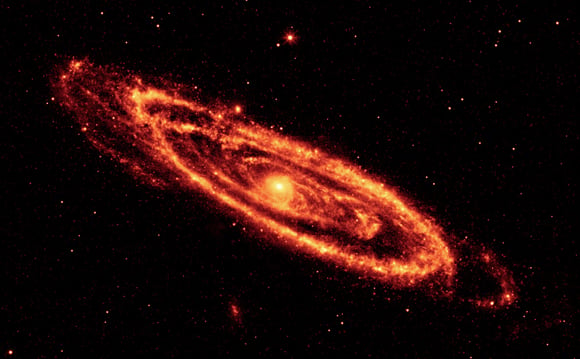 If you don't like that flavour, try this image of Andromeda posing at 3.4 microns: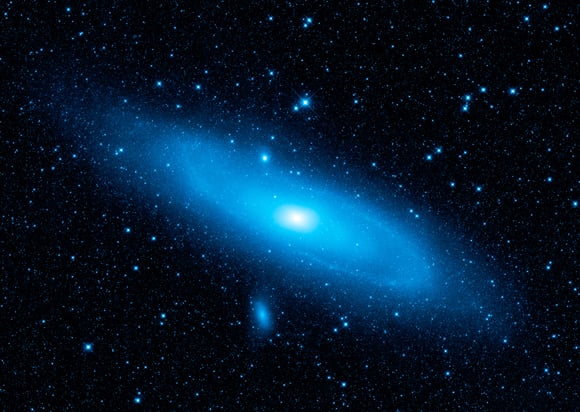 NASA explains: "A pronounced warp in the disk of the galaxy, the aftermath of a collision with another galaxy, can be clearly seen in the spiral arm to the upper left side of the galaxy."
WISE has also grabbed comet Siding Spring (full image details here) and its tail stretching "about 10 million miles":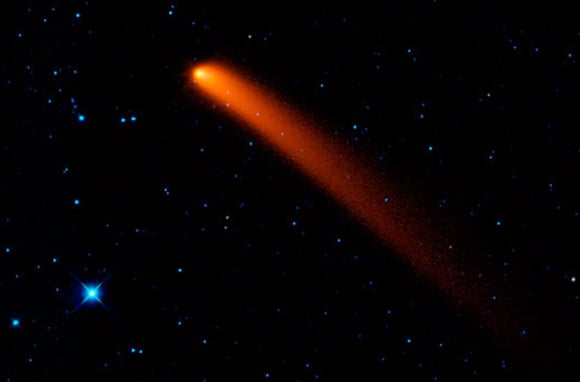 Ed Weiler, associate administrator of NASA's Science Mission Directorate, said: "WISE has worked superbly. These first images are proving the spacecraft's secondary mission of helping to track asteroids, comets and other stellar objects will be just as critically important as its primary mission of surveying the entire sky in infrared."
At an operating altitude of 525km, WISE will pass over the poles 15 times a day taking a picture every 11 seconds through its 40-cm (16-inch) telescope. It will eventually deliver around 1,500,000 images of the heavens "with a sensitivity hundreds of times greater than ever before".
NASA expects to snap "millions of hidden objects, including asteroids, 'failed' stars and powerful galaxies". The data will offer "navigation charts for other missions, such as NASA's Hubble and Spitzer Space Telescopes, pointing them to the most interesting targets the mission finds".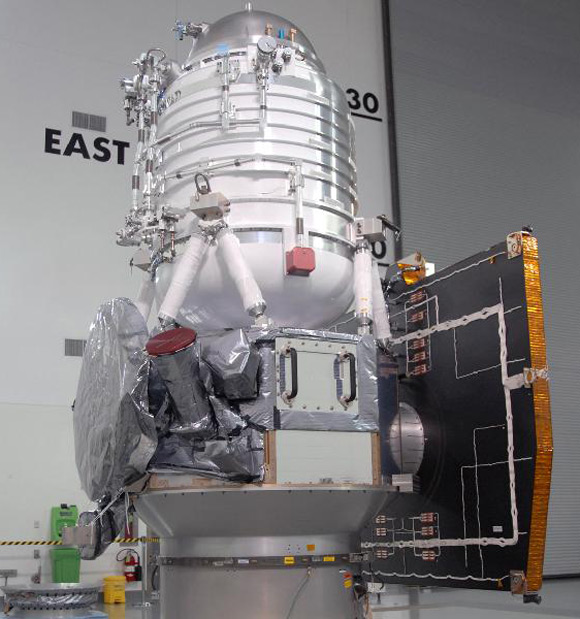 WISE's instruments operate in a frozen-hydrogen-filled cryostat (above), which ensures they're kept chilled as low as 8 Kelvin, preventing the spacecraft's own infrared emissions interfering with observations. The mission is expected to end in around October 2010, when the hydrogen finally evaporates away.
The main WISE page is here, the mission overview here, and further spacecraft details are here. ®
Sponsored: Webcast: Simplify data protection on AWS