X2 triplex multicopter prototype suffers gearbox snag
Still hoping to pop can of Osprey whup-ass this year
Updated Chopper globocorp Sikorsky has suffered technical hitches in development of its potentially revolutionary (cough) X2 multicopter, which is intended to administer a stinging technical bitchslap to the famous V-22 "Osprey" tiltrotor from rival firm Boeing.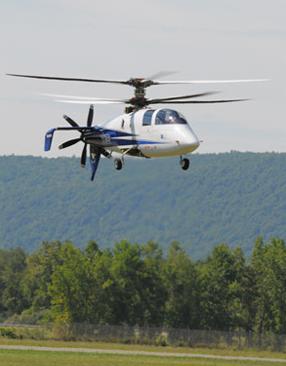 Let's get this spin machine off the ground.
Flight International reports that a gearbox problem was detected during ground tests in December, just before the triplex whirlybird was due to take off for a flight test at 150 knots. The X2, which first flew with all its capabilities installed last July, is gradually working its way up to the full design speed of 250 knots - much faster than a normal copter, and noticeably better than the Osprey.
Apparently the gearbox snag has now been sorted out, but some lower-speed flights will now have to be repeated. However Sikorsky test pilot Kevin Bredenbeck told Flight that he expects to hit 250 knots "by the end of the year".
The X2 works by the use of two main rotor sets spinning in opposite directions. This avoids one of the problems suffered by ordinary helicopters attempting to go fast, the issue of "retreating blade stall" - where the backwards-going blade briefly becomes almost stationary with respect to the air it cleaves owing to the aircraft's forward speed, so losing lift on one side of the rotor disc. An X2 or other stacked-rotor copter has forwardgoing blades on both sides, however.
That's just one of the snags to be solved, though. As the retreating blade slows, so the forward-going blade tips tend to go supersonic as the helicopter accelerates. In general this is hard to deal with, as most choppers spin their rotors at a fixed rpm.
But the X2 has variable speed equipment, allowing it to slow the blades' spin as it speeds up and so keep the blade tips safely subsonic. It also has modern superstiff low-drag rotors and active damping tech, which Sikorsky hope will quell the violent vibration which bedevilled previous efforts along these lines.
As the twin main rotors counteract each other's torque, an X2 needs no side-thruster on its tail for steering. This means that it can put a forward-driving propeller there instead, to provide the extra thrust necessary to reach high speeds. A previous attempt at an X2-like aircraft, the XH-59A demonstrator, used extra strap-on jet engines instead: but these made the XH-59 overly heavy and complex, and a fuel hog besides. Sikorsky believe that their tail prop driven from the X2's single turbine is the way forward - smaller X2 craft of the future could also be single-engined and thus simpler and cheaper to operate than tiltrotors.
So far the machine has flown at only 106 knots, however, a speed which even crummy old normal 'copters can surpass. However, according to Bredenbeck, the active-vibe-damping kit hasn't even been needed yet, which should indicate plenty of room left in the X2's flight envelope.
Meanwhile the Osprey has finally entered frontline service with the US Marines after a long and painful gestation. Initial operations in Iraq's Anbar province were unconvincing to the tiltrotor's critics, as Anbar had pretty much calmed down by the time it arrived. However the Osprey is now in the thick of serious fighting in Afghanistan, reportedly without any particular problems.
Barring any further tech hiccups, this year should see which is to be victor in the souped-up rotorcraft stakes: tiltrotor or triplex multicopter. ®
Update
We had thought that the Osprey could only go at 240 knots, or 230 in the case of the spec-ops version, based on the normally reliable Globalsecurity.org's figures for the V-22. However an Osprey pilot writes in to tell us that the tiltrotor, following software changes, can now do 270 knots in level flight - so even if the X2 performs to spec it will not be as fast as a V-22.
Sikorsky would no doubt still defend their idea on grounds of reduced complexity and potential to be single-engined rather than twin. They would also, perhaps, point out the Osprey's apparent tendency to melt and buckle the flight decks of US warships with its hot exhausts, which isn't an issue with the X2. But it doesn't seem especially likely that the X2 will snatch away the V-22's speed crown.