Overland Snaps into iSCSI
Hopes SnapServer SAN will be growth engine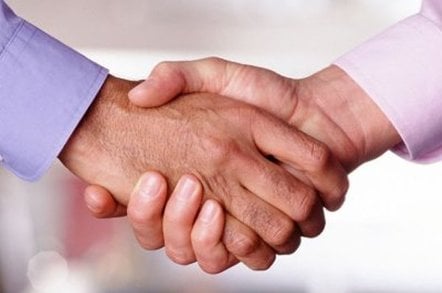 Oveland Storage is adding a SnapServer SAN product alongside the SnapServer filer product, and hoping it will be the business growth engine it sorely needs.
The SnapServer product is the leading network-attached storage (NAS) product in volume terms and Overland Storage gained it through an acquisition of Snap last year from Adaptec.
Overland is relaunching itself under the rubric of "Effortless Data" and thinks it has turned the corner with its lengthy restructuring. Its latest results showed decreased revenues for its second fiscal 2010 quarter, $20.4m compared to $28.9m a year ago, but reduced losses of $2.6m, half the $5.2m loss reported in 2009's second quarter. Branded product sales in Europe were up 52 per cent from the third calendar 2009 quarter to the fourth.
The company, known for its Neo tape automation and REo disk backup products, stumbled after the move into the protected disk storage array market with the Ultamus line of products. Two CEOs later that line has been withdrawn and the company has a revamped executive team led by Eric Kelly, who initiated the Snap acquisition. He was previously the CEO of Snap Appliance and has now got his baby back again.
The highlights of the company's restructuring are a complete re-organisation, and a concentration on channel sales of Overland branded product, away from OEM sales. There is going to be a stronger focus on service sales, adding this to the box-shifting approach, and a revision of manufacturing to lower costs through consolidating facilities, using OEM suppliers and generally getting much more efficient in making and shipping products.
Its marketing is also getting a makeover with the "Effortless Data" tag line and a new look and feel to the web site.
The key metric is making a profit and this might, might, happen in one quarter this financial year or possibly early in the next, assuming no double-dip recession. The other nasty in the woodshed is a threatened Nasdaq de-listing, the defeat of which requires Overland's market capitalisation to grow. The new product has got to help make this happen.
Overland thinks it now has a stable tape business and sees good prospects in the disk backup and SnapServer NAS areas. Now it wants to grow its Snap business by plunging into the booming iSCSI SAN market.
The SnapServer SAN 2000 is claimed to be really easy to install and manage, with a LUN (logical unit) provisioned in three clicks using a Windows wizard approach. It is a 2U rackmount box in 12 and 24TB SATA configurations with a SAS drive option. One and 2TB SATA drives are supported. The capacity can grow to 120TB using E2000 expansion units with 12 drive bays.
The performance is said to be more than 500MB/sec for sequential reads with 1400 Random Read IOPS.
Allocated capacity can grow automatically, with Overland's smart provisioning function, and Overland claims no storage array management skills are required. EMEA director Andy Walsky says: "This is really neat. It's worth the price of admission and unique at the price point."
Asynchronous replication to a second SnapServer SAN product is supported. Protection comes with RAID levels 0, 1, 5, 6, 10, 50 and 60, and there is Snapshot support with the included VSS (Volume Shadow Services). The new box is certified for use with the deduplication suite in Symantec's Backup Exec 2010.
The product also works with VMware ESX 3.5 Update 3, and ESX 4.0 and integrates with vCenter. Overland says it's fully compatible with the Windows Multi-Path I/O (MPIO) framework and supports Microsoft Cluster Server. There is a high-availability configuration with dual active-active SnapServer SAN 2000 boxes and automatic failover should one stop working. The existing SnapServer management product can manage both the NAS products and this new the SAN product as well.
Overland's channel has got to love this box and sell it with real vigour. It's hoping its new FastTrack channel program will help with things like a guaranteed margin and other channel goodies.
The SnapServer SAN 2000 is available immediately for £9,750 ex. VAT (or €11.200). The SnapServer E2000 Expansion is available immediately for £1,995 ex. VAT (or €2.250). ®