New airlock mini-sub for US Navy SEAL 'operations'
May not be compatible with nuclear Stingray motherships
The US Navy SEALs, America's secretive frogman-commando elite, are to get a new and enlarged pocket submarine which will allow them to travel most of the way to an objective inside in the dry and then exit through an airlock before swimming on for their final approach.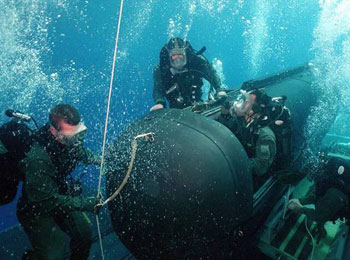 Ordinary "wet" SDV mini-sub in action.
The SEALs and comparable elite forces such as the British SBS have long used "wet" Swimmer Delivery Vehicles (SDVs) to approach an objective below the waves, allowing them to move faster and further than an unaided frogman can. With a normal SDV, the frog-trooper isn't inside a pressure hull - he is immersed in the surrounding water. This can be a problem, as hours spent unmoving in cold water can sap the strength of even the steeliest underwater warrior. Hence the desire for a mini-sub with a proper pressure hull and an airlock, allowing attacking frogmen to travel dry.
For many years, the SEALs were known to be working on this via the so-called Advanced Swimmer Delivery System (ASDS). But the prototype ASDS was dogged by technical snags and never reached an acceptable standard of performance. It was sternly criticised by the US Government Accountability Office.
The coup de grace for the unfortunate ASDS was administered when it caught fire while stored ashore and was gutted. This left the SEALs reliant on their trusty 1970s-vintage open-water Mark 8 SDVs. (There was also a Mark 9, capable of firing torpedoes, but this was retired in the 1990s*).
Following the ASDS disaster it appeared that the US special-ops community would henceforth content itself with a new replacement open-to-the-sea SDV, somewhat modernised, under the name Shallow Water Combat Submersible.
However, this week brings an announcement by the US Special Operations Command that they intend next month to lease an S301 submersible from Virginia company Submergence Group, which also offers a two-man research sub. The S301 is to be delivered to the SEAL units at Pearl Harbour in Hawaii, formerly the home of the ill-fated ASDS, and will "be used by field units for doctrinal, operational, and organizational purposes" - with "operational" being the most interesting word.