Buster's World gives Guardian Professional balloon-sized headache
Supplier coughs to DirectgovKids porno branding blunder
The website supplier responsible for the DirectgovKids porno brand name gaffe that we first reported late last week has admitted it failed to spot the clanger when searching for the name via Google.
Guardian Professional, which currently supplies the DirectgovKids site and its content, created an unfortunate brand name - Buster's World - which, as we revealed on Friday, is also home to a gay fetish website.
BustersWorld.com gets the number one hit when searched for through Google. DirectGovKids comes up an unlucky second.
So UK youngsters looking for the Buster's World branded kids public services' website could easily click on the wrong link, as did happen to one outraged mother's offspring just last week.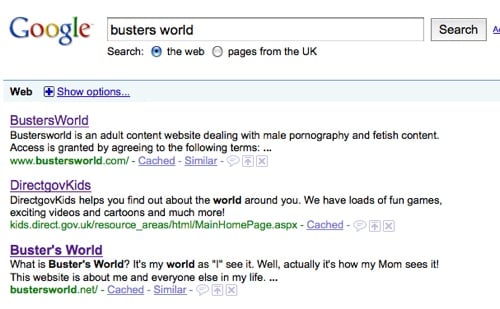 Search and ye will find balloons, child
After we contacted the Department for Children, Schools and Families and pointed out the massive branding blunder, the Buster's World banner was quickly removed.
The site itself is still operational, but Buster - the friendly dog which guides kids around the site - has lost his name badge.
Meanwhile supplier Guardian Professional, which is the commercial wing of Guardian News & Media, will see its contract with the DCSF go up for renewal in March this year.
Guardian Professional's head of digital agency Tom Jackson told The Register that the firm's "usual rigorous checking failed on this occasion".
When pressed on whether the company expected to see DCSF renew its contract with Guardian Professional, he declined to comment.
"We have nothing further to add outside of any statement the Department for Children, Schools and Families has already given you," he said.
We asked the DCSF if it did indeed plan to renew its contract with Guardian Professional or look elsewhere in light of the Buster's World howler.
"We'll just have to wait and see what happens," a DCSF spokesman told El Reg.
Meanwhile, the timing couldn't be more unfortunate for UK.gov as the DCSF launched its 'Zip it, Block it, Flag it' campaign today.
"It's important that parents and children understand the risks involved with using the internet, as with any area of life," said schools secretary Ed Balls. ®