Promise pops up in UK with Drobo-ish box
Empty 4-bay NAS product with Appley flavour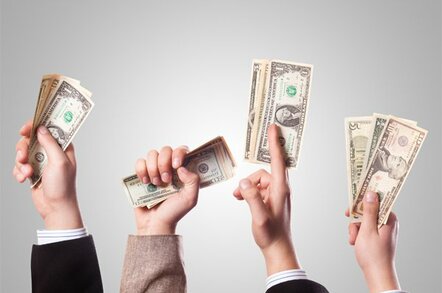 Promise Technology is setting out its stall in the UK with a product line that includes a Drobo-lookalike, the NS4600, which like the Drobo offers media serving functionality.
Both boxes are curved edge black rectangles, with four empty drive bays, FireWire and USB connectivity, and can be upgraded with new disk drives as existing drives fill up. Both are aimed at providing storage for consumers, video and media professionals and small business customers.
The Drobo is an exceedingly easy box to use. It is primarily a block storage device with added NAS and media serving functionality through a DroboShare unit. The NS46000, pictured below, is a media-serving - DLNA and UPnP, RAID'ed (0, 1, 5, 10) network-attached storage box with a more complex feature list and is probably slightly less easy to use, lacking for example the Drobo traffic light-style interface for disk drive health.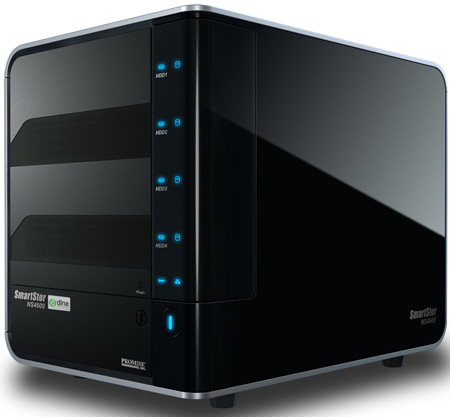 The Drobo looks as if would be perfectly at home sitting next to Apple iMacs and MacBooks; so too does the NS4600. Both can be Time Machine targets but Promise actually has a relationship with Apple as its VTrak RAID arrays are supported for Mac servers in the XSAN environment. It also has a relationship with NEC's high-performance computing group to supply storage products to customers.
The NS4600 is an update of the earlier NS4300N which has a significantly quieter fan, more powerful Intel EP80579 (Tolapai) CPU, 256MB of RAM instead of 128MB, and up to twice the performance whilst also being more power-efficient. The product has gigabit Ethernet, FireWire 400 and eSATA support. It is DLNA 1.5-certified and includes an iTunes server.
It also includes a snapshot capability and one NS4600 can replicate its contents to another. Client PCs can be backed up automatically. You can read a datasheet here (pdf).
For comparison, a Drobo plus DroboShare bundle is available for $580 on Amazon, whereas an NS4600 will set you back $421.
The Promise product line includes RAID controller cards, the NS4600 and similar direct-attached storage DS4000 products under a SmartStor brand, as well as VessRAID mid-size company and entry-level enterprise VTrak storage arrays. All the storage products support 3.5-inch SAS and SATA drives with Intel X25E and STEC flash solid state drives (SSDs) available. Promise says it has sold 16 million RAID controllers, making it the world leader by unit volume.
EMEA Marketing director Albrecht Hestermann expects a 24-bay, 2U 2.5-inch drive product to appear by the end of this year. USB 3.0 will come when the market is ready, Hestermann saying Promise is not a trendsetter when it comes to interfaces.
Promise is expanding into the UK from its base in Germany and is opening a serviced virtual office in Wokingham. Hestermann expects and hopes to have both a sales person and technical support person based in the UK in the next 12 - 18 months.
Four distributors have been appointed for the UK and the company is planning a partner support programme. It is hoping to have 60 to 100 certified engineers in a reseller community by Christmas 2011, as well as a presence this year in UK retailers and e-tailers.
The Promise pitch is that, although it's new to the UK it is in fact a world leader in RAID controllers and offers very good value for money products with good margins for resellers. ®