Air Marshal: RAF may not have to be disbanded
It's 'plausible' that slug-balancers will be kept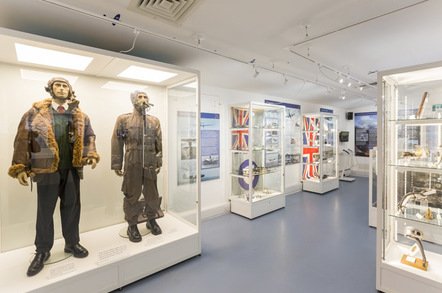 Yesterday, reporting on the Ministry of Defence green paper issued this week, we referenced a news item in which the UK's top serviceman, Air Chief Marshal Sir Jock Stirrup, reportedly said it was "plausible" that Britain might in future have just two armed services rather than three.
It has now emerged that this was in error. The MoD has issued a correction:
It is being misreported by some media outlets that when talking about the possible implications of the Green Paper, Chief of the Defence Staff (CDS), Air Chief Marshal Sir Jock Stirrup, said yesterday that it was 'plausible' that there could be only two Armed Services.

This is not the case. The following question was asked:

"With regard to the forthcoming Strategic Defence Review and the requirement to save a lot of money, do you think it's plausible that we will have three Armed Services?"

CDS replied to this question by saying: "Certainly it's plausible."
So in fact it would appear that the idea of retaining all three armed services is only "plausible" - which is very different from "likely" or "definite". Indeed, no matter how you slice it, it is now confirmed by the Chief of the Defence Staff that the disappearance of one or more services is on the cards.
Which one it might be generally depends on the background of who you ask. The Royal Navy and Army continually suggest breaking up the RAF among the Fleet Air Arm and Army Air Corps, for instance.
Sir Jock, as we suggested yesterday, might rather favour amalgamating the other two services to form the Royal Surface and Subsurface Force. It might even be possible, in a world where tails wagged dogs to an even greater degree, to see the RAF Regiment (the air force's ground security troops, roughly equivalent to a couple of battalions of army infantry in organisation and quality) take over the Army.
Alternatively the navy might be broken up to form the RAF Seagoing Airbase Flotilla and an Army Maritime Transport and Associated Functions organisation, probably within the logistic corps. Both the Army and RAF operated significant fleets of their own in the past, after all.
Canada once tried to unify all three services, but this didn't really take - they still have quite a lot of separate identity.
Here on the Reg defence desk, we'd say that Sir Jock used the wrong word: it's not just plausible but very likely that all three services will continue to exist, though if we taxpayers are lucky their upper levels will be trimmed and amalgamated a great deal - perhaps by abolishing the three service ops commands (Fleet, Land and Strike) and assigning their remnants to the Joint Ops HQ, among other things. It seems mad to promote joint operations by increasing the number of warring HQs from three to four, as we have under the current setup.
If a service does go, though, we'd really have to say the air force is the obvious one - and we aren't alone in that. ®