Huawei E5 Wi-Fi/3G modem
Better known as the 3 MiFi
Review Huawei's E5 is one of a growing line of compact, standalone HSDPA 3G modems that double-up as impromptu Wi-Fi hotspots. You may have heard of it as 3's MiFi.
Rather than hook the E5 up to a single device - your laptop, typically - the built-in access point means you can share its 3G link among all your gadgets: phones, tablets and so on. That said, the E5 can also connect directly to a computer and operate as a typical 3G dongle.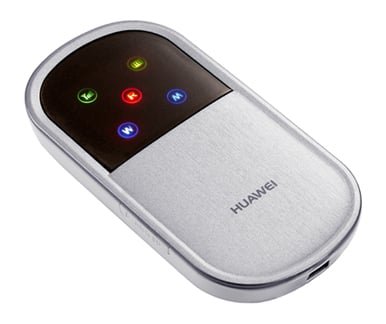 Huawei's E5: no bigger than an old-style 3G dongle, but with a Wi-Fi router on board
Don't have any other Wi-Fi devices? Then just treat the E5 as a dongle you don't need to plug in. Or even take out of your bag.
The Wi-Fi support is limited to 802.11b/g, but then most small mobile devices don't have 802.11n either, so this is perhaps no great loss. The E5's 3G radio operates in both the 900MHz and 2100MHz UMTS bands, and it has quad-band GSM/GPRS/Edge support too should find yourself too far from a 3G basestation.
When you are in range, the device will support upload speeds to 5.76Mb/s and download speeds of up to 7.2Mb/s. These are theoretical maxima, so you won't get them in the real world, even if the network you're using supports them.
And, of course, you don't mind paying inflated data-roaming rates when you're traveling beyond your national borders.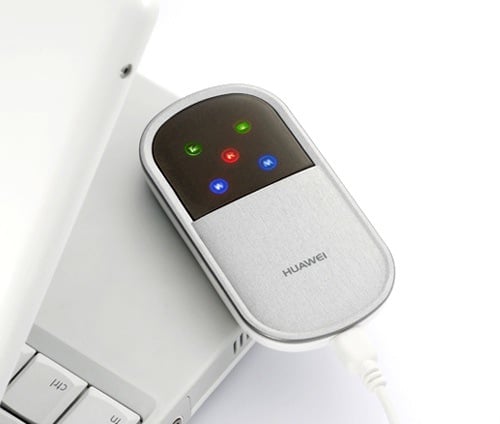 USB or battery powered
The E5 is powered by its own, removable lithium-ion battery, charged over USB. A computer's USB port will do, as will any suitable AC adaptor, though you don't get one in the box, just a short cable.