Apple vs the iPad Bedwetters
The iPad? It's the end of the world as we know it!
Apple's new iPad has caused an amazing outbreak of Chicken Little-ism. If the iPad is successful, it's curtains for the internet, for freedom and for humanity as we know it. Have you felt a piece of this fall on your head?
Permit me to introduce you to the Professional Bedwetter. It's someone who doesn't like what they see, doesn't understand what people like - but nevertheless, wants to ban it all anyway.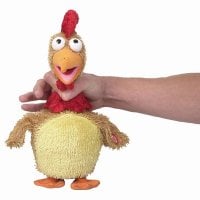 The Puritans once imagined wickedness in every corner, and there's certainly a strong whiff of Puritanism about this latest iPad. I would have thought the Observer veteran John Naughton would have a more sophisticated and Catholic view of sin, but he too has found comfort in a simplified world.
For Naughton, the iPad puts mankind in danger of being led astray by pleasure, and cites Huxley, who "thought that we would be undone by the things we love." You'll recall it's HL Mencken who ably defined the Puritan as someone "haunted by the thought that somebody, somewhere might be enjoying themselves". Apple devices are fun, his argument goes. Well, let's be afraid of them.
Why does he say so? After several hundred words he delivers his justification, and that it's: "a single US company renowned for control-freakery will have become the gatekeeper to the online world." A fair point, - only he doesn't mean Microsoft or Google. He means Apple. And er, that's it. The assertion provides its own justification.
Brewster Kahle has also raised the spectre that the iPad will kill the internet, but he doesn't have much more justification to offer us.
"They really control the horizontal and the vertical by going with the iPhone platform," says Brewster. Cripes - both? Apparently. "I think it's discouraging... the future is controlled, and it's controlled by Apple."
That's some prediction. Wait a second. Apple has just shown off a fancy $500 picture frame. Or $900 if you want 3G. And this apparently crushes all creativity, killing the internet? Please. What are these guys smoking? Who's spiking their latte?
Sponsored: Detecting cyber attacks as a small to medium business