Firm grows multi-touch see-through 'skin' for gadgets
Make anything flat or curved touch-sensitive
Are you ready for an iPad that's curved to fit around your forearm? Or an LCD TV that's as interactive as an iPhone?
Displax, an off-shoot of Portuguese internet services company Edigma, reckons it can make these devices possible. It has developed what it claimed is the first multi-touch tech that can be applied to any material, flat or curved, opaque or transparent.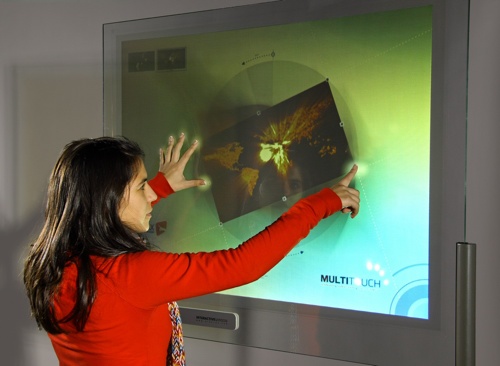 Displax's multi-touch skin: doesn't have to be stuck to something that's flat...
The sensor is even sufficiently sensitive, the company claimed, to be able to detect not only when you press it but also when you blow on it, opening up "new possibilities for future applications", Displax said. The mind boggles.
The system is straightforward enough. It's based on capacitive technology - the one used in the better-quality touchscreen devices - and uses a grid of tiny wires embedded into a transparent sheet that can be attached to the object you want to turn into a multi-touch machine. The sheet itself comes from a company called VisualPlanet.
Displax said its controller connected to a 50in sheet can track 16 fingers, though it expects the technology to be able to detect more digits in due course.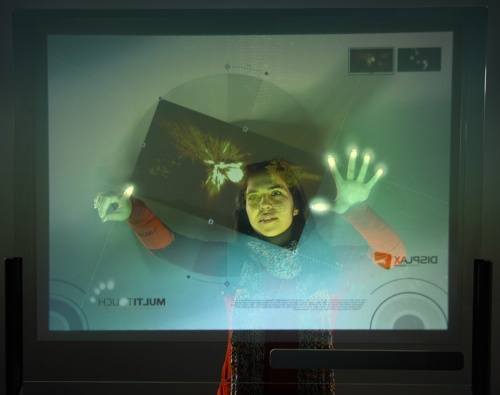 ...or opaque
Displax is pitching the technology primarily at displays from 7in to 3m in the diagonal - it's an easy way to turn a standard LCD panel into a multi-touch device, it said - but it sees the system being applicable to a huge number of objects, from ordinary tables to large tellies, and shopping centre information boards and posts.
Right now, Displax is nearing the end of the technology's development with a view to bring it to market in Q3. ®