Nokia X6 Comes With Music
Sound investment?
Strangely all this comes on a mini-sized CD. But a 350MB download then follows. Why not ship a normal sized CD? The Ovi suite, which is missing the useful video sync software, has some more drawbacks. Both Ovi applications are written in .NET, which ensures they're enormously buggy, take far more system resources than they should, and are not portable to Mac or Linux. Tales abound of lost data. While you can (and should) steer well clear of Ovi Suite, you will need the Player.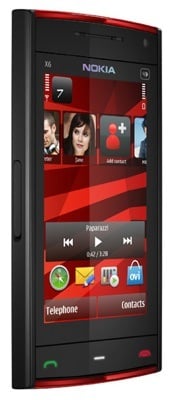 An attractive bundle, but struggles to deliver on its promise
Unfortunately, while this is well designed and functional, it's barely usable. As our earlier screen grab shows, the test system stalled, with all fans blowing after transferring fewer than 1,000 files.
Comes With Music requires a long PIN to be entered once. Again, the buggy .NET suite acted against the user when it didn't need to: dialogs would be hidden behind windows. A little confusingly, CWM uses the Nokia Store – an iTunes-alike service where songs and albums are purchased individually. But free CWM are described as purchases. Once you're up and running it's as good as it promises. There's a wide catalog available, you simply stock up and go.
My first X6 device found Nokia misfiring on all cylinders. Insufficient RAM, sign-up glitches, daft defaults, all marred the experience. Many of the performance issues vanished when an identical replacement showed up, with enough memory on the system drive. Transfers were smoother, too, yet there are still sufficient bugs in the Music Player to give the potential buyer second thoughts.
Verdict
As a stop gap UI, 5th Edition can't compete with the high end, but it performs adequately when compared to cheaper rivals. I got the impression that the phone team hadn't bust a gut to make this a must-have phone, assuming that the unique Comes With Music proposition would sell the device. The Music team thought something similar. The result, when compared with similar offerings, is more prickly than need be.
For example, I recently tried Orange's Monkey Music (a music store for Pay As You Go subscribers) where almost everything is slicker and easier – and the test device, a Samsung S5600, while lacking the X6's paper features, was simply nicer to use.
A strong package on paper, a few tweaks could make the X6 a respectable midrange contender, but Nokia badly needs to go to market with something smarter and more modern than Symbian S60. ®
More Phone Reviews...

Sony Ericsson
Aino

LG
New Chocolate
BL40

Nokia
5530
XpressMusic

Samsung H1
Sponsored: Detecting cyber attacks as a small to medium business

Nokia X6 Comes With Music
Despite the wealth of features, compared to its rivals the Symbian OS looks old and neglected