Asus G51J
In yer face stereoscopic 3D gaming, for a price
We also occasionally noticed a flickering effect on the screen, while ghosting was sometimes visible. Thankfully, extended use didn't provide the headaches and dizziness we were expecting, but as always your personal experience may vary in this respect. Playing games in 3D on Acer's laptop all but crippled it, so we were eager to find out what sort of performance hit occurred on the Asus G51J 3D. Naturally, with its far more powerful hardware, frame rates were much higher. There is, however a noticeable hit when the 3D engine is activated.
Benchmark Tests
PCMark Vantage Results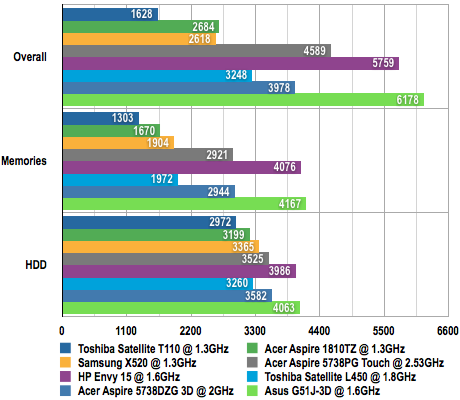 Longer bars are better
In Call of Duty 4 at 1366 x 768 and 4x AA, we managed 47.2fps. Flicking the 3D switch resulted in 23.9fps – a drop of just under 50 per cent, but certainly still playable. Compare these results to the Acer's of 29.5fps and 11.6fps (2D and 3D respectively), and it's clear the G51J 3D is a far more competent 3D gaming laptop.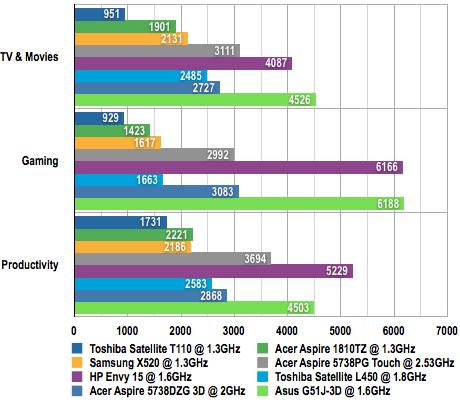 Longer bars are better
Far Cry 2 saw a similar halving of frame rates. At the laptop's native resolution and with detail levels set to medium, we achieved averages of 61.4fps with the 3D engine off, and 35.2fps when turned on.

Battery life in Minutes
Longer bars are better
Thanks to the Core i7 processor and GeForce GTX 260M graphics, the laptop also posted impressive scores in our synthetic benchmarks. In PCMark Vantage it managed to clock up an overall score of 6178, while 3DMark Vantage saw it return 5103 in the Performance test.