HTC Hero to get Android 2.1 update in March
Delayed again?
Looking forward to the release of Android 2 for the HTC Hero smartphone? Bad news: it may not appear until March, a month or so after the anticipated February delivery date.
So says a representative of Irish network Meteor who claims to have heard it from the horse's mouth.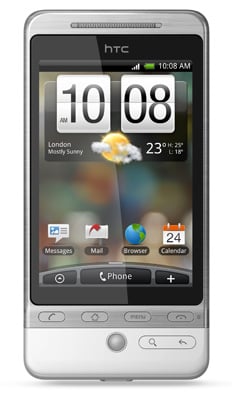 HTC's Hero: successor out before original updated to Android 2.1?
In a posting on Meteor's forums, 'Glynn from Meteor' says: "We've been in contact with HTC and they have said that version 2.0 will be available in and around March of this year."
In a subsequent post, he added: "Just got another update on this and HTC have said they are releasing 2.1 on the Hero, and we are hoping to have this available by the end of March."
He also noted: "This will be available via the HTC website."
The Hero currently runs Android 1.5, even though version 1.6 - aka 'Donut' - has been in the wild since September 2009. Owners were undoubtedly pleased to hear rumours that HTC was skipping 1.6 in order to take them straight to 2.0, which was released in October 2009. It now looks as if even that version is being bypassed, and the next upgrade will be based on 2.1, which was released at the beginning of this month.
HTC is expected to announce the Hero's successor next month at the Mobile World Congress show. ®
Sponsored: Beyond the Data Frontier