Seagate sales surge in Q2
Revenues up a third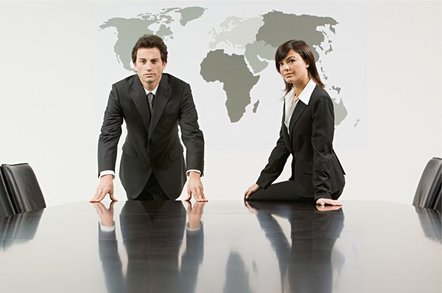 Seagate's second fiscal 2010 quarter was a blast, with revenues up a third and half a billion profit.
Seagate took $3.3bn in the last calendar quarter of 2009, that's 33 per cent up on the year-ago quarter's $2.27bn. It made a $533m profit, which compares astoundingly well to the loss of $2.8bn - yes, billion - a year ago. However that included a goodwill impairment charge of $2.47bn so, after discounting that we're left with an effective loss of $354m. This means the $533m profit is still a great turnaround, but not a Steve-Luczo-is-God turnaround.
Seagate shipped 49.9m drives, up from 36.7m a year ago. These good numbers beat Wall Street expectations and the quarter even surprised Seagate's execs. CEO and chairman Steve Luczo said in the Seeking Alpha earnings call transcript that the quarter did not show any slackening off of demand as it progressed: "We did not experience the dramatic decline during the last two weeks in the quarter as we did in the December 2008 quarter. Second, our assumption for enterprise storage demand proved to be conservative, as demand accelerated throughout the quarter."
However, there was no perceived demand increase effect from Windows 7, and he said that will maybe happen later this year.
The company had a good mix of products and responded well to demand in the quarter. Retail product sales were up 71 per cent year-on-year, which must be pleasing, as that sector of Seagate's product range needed attention. It represents just 9 per cent of Seagate's revenues, though.
Looking ahead, Luczo might as well have said "let the good times roll," but actually spoke thus: "We now expect a broader global economic recovery to occur in the second half of calendar year 2010... Throughout the calendar year we... expect to make capacity additions." This means he's looking forward to boosting drive manufacturing facilities, which is very encouraging.
Seagate expects to make $2.9bn - $3.1bn in the next quarter, but thinks overall shipments may be constrained by component shortages.
There was a newish face at the earnings call - Dave Mosley, an EVP for sales, marketing and product line management. He answered a question about which products were in high demand by stating: "The strong demand reflected an intense customer appetite for our notebook and desktop product lines, particularly at 500GB and 1TB capacity points, and high performance 7,200 RPM configurations. In addition, we experienced accelerated demand for our 15,000 RPM enterprise products throughout the quarter."
He was asked when we would see notebooks hit 1 terabyte and desktops pack 4 terabyte drives, and said they weren't relevant to calendar year 2010. That suggests 2011 is the time to look for those capacity points.
Seagate's Chief technology officer, Bob Whitmore, talked of disk drive technologies and said: "[We have] increasing confidence in the extension of conventional perpendicular [magnetic] recording to sustain the areal density growth rate for the next several product generations... We continue to invest resources and capital towards technologies that will take us well beyond conventional perpendicular recording... [and] we have made considerable progress in demonstrating recording capabilities with several advanced technologies. We believe this positions us well for future product integration."
The canny guy didn't offer any preferences for either heat-assisted recording or bit-patterned media.
Steve Luczo was asked about Seagate's SSD efforts and said: "[Re SATA SSD] the early samples that we have shipped out have been very well received. Pleasantly surprised I would say, relative to the tradeoffs we have made in reliability, performance, cost and capacity... The SAS offerings will be later this year."
Stifel Niklaus analyst Aaron Rakers expects the SAS SSD to arrive after the mid-year point. He also expects that Western Digital will broaden its enterprise SSD range by the mid-year point.
Western Digital announces its results later today and there's no reason to suppose that they won't be as rosy as Seagate's, with regard to what begins to look like a sustained recovery in demand. ®