Conceptronic Grab'n'Go
Retro rocket-styled streamer, anyone?
Conceptronic informed us that the Media Server is "a basic UPnP server" that only supports 'standard' file formats. The company was somewhat vague about which specific formats, but did confirm that AAC isn't among them. Also, we were told that it's possible to use alternative UPnP server software if you want, or to use the Media Player's built-in Samba server to set up file sharing without using UPnP at all.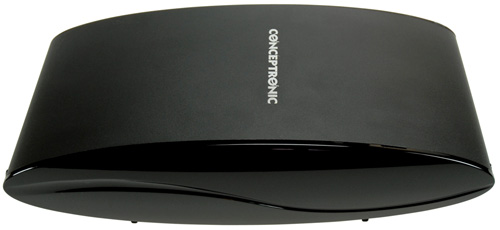 Nice hardware, shame about the software
That might not be too difficult for technically knowledgeable Reg readers – and we know that many of you are fans of MythTV – but first-time users who aren't familiar with media players or the intricacies of UPnP or setting up a Samba server will simply grind to a halt at this point. Conceptronic really needs to offer more user-friendly software straight out of the box.
To be fair, Conceptronic's Media Server application is no worse than similar software included with many rival media players. However, some devices, such as the and Western Digital's WD TV Live, do show that it's possible to provide more versatile browsing options and greater ease of use.
Verdict
At around £150, the FullHD Media Player is significantly more expensive than the WD TV Live, which also lacks an internal hard disk, while you can pick up a model such as Iomega's ScreenPlay Director that has a 1TB hard disk for only £25 more. We like the rocket ship design, but the FullHD Media Player needs a price cut and more user-friendly software before this particular rocket is ready for take-off. ®
More Network Media Player Reviews...

Popcorn Hour
C-200

LaCie LaCinema
Black MAX

Freecom
MediaPlayer II

Wyplay
Wyplayer

Conceptronic Grab'n'Go
Well designed hardware, but the rather basic navigation options and streaming software are disappointing.