BakBone combines backup and replication
Enough to send a shiver down your spine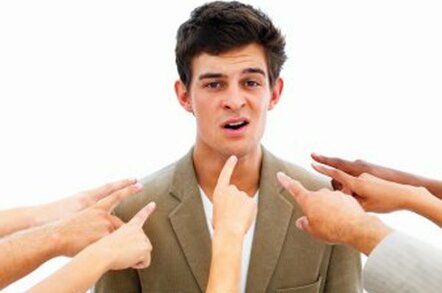 BakBone is embedding replication into its NVFR v4 product to provide a disaster recovery capability.
BakBone's NVFR, or NetVault: FASTRecover, was announced in June last year. This stores changed blocks from a Windows file system, Exchange server or SQL Server on a disk-based system, and can recover the server in what appears to be 30 seconds.
It does this by first of all recovering shell files needed to restart the server app, and then recovering the bulk data to a consistent state at any point in time. Any user-requested mails or data base records are recovered on demand, jumping to the top of the queue. It's a neat way of having fast recovery without actually paying for the infrastructure needed to recover the entire application in thirty seconds.
NVFR v4.0 has replication added into the mix so that one NVFR site can replicate its contents to another and so provide a disaster recovery (DR) capability. Andy Brewerton, BakBone's EMEA tech director, says we can envisage remote offices using agents to send backup data to a central site where NVFR operates.
That data centre can have its NVFR replicate itself to a second data centre NVFR system. If the first data centre fails then the branch offices get flipped over to the alternate or DR data centre and can continue having their files backed up centrally and having a restore capability. The two data centres can protect each other by each backing up their own local servers and set of remote sites, and replicating their changed data to the other data centre.
Individual NVFR 4.0 sites can replicate and fail-over to physical or virtual machines. Remote sites with large data sets can have their own NVFR 4.0 instance and replicate to a second NVFR site to get local backup and the DR capability.
Brewerton is pleased that NVFR can now provide both continuous backup and disaster recovery and reckons that this v4.0 release might even be more important than the original NVFR release. It's likely that the product will embrace SharePoint in the future; customer feedback emphasised the importance of adding replication support before SharePoint according to Brewerton. Deduplication is another potential roadmap item.
It appears that backup, backup to disk, application-aware backup, continuous data protection, replication and deduplication are all coming together to slowly provide the all-singing, all-dancing, mother of all data protection products. It will continuously backup application data to disk, deduplicate it, protect that system against failure by replication, and restore popular applications in seconds to any point in time and in a consistent state.
It might also progress to including an archive, take advantage of drive array tiering, embrace drive spin-down to save energy, and provide search, compliance and e-Discovery capabilities, and cope with private and public clouds too. Wow!
If all this ever does get included in a single product then we'll (a) be very lucky, and (b) need a lot of money to buy it. ®
Sponsored: Detecting cyber attacks as a small to medium business