Discounts damage for Microsoft Windows 7 PC boost?
Volume gets you so far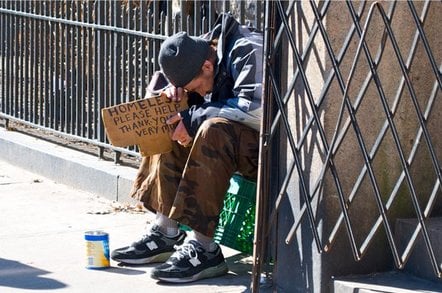 Things are looking up for PC manufacturers. The last three months of 2009 saw shipments of computers grow 22 per cent, while all - except Dell - enjoyed robust double-digit growth in the US and internationally according to Gartner.
It was the strongest quarter of growth in seven years for sales of PCs, and it indicated a recovery in the PC market on global basis, the mega analyst said.
One reason things looked so good is that in the same, three-month period in 2008 we were in the middle of a recession, banks were on life support, and Lehman Brothers had just died, helping put a massive consumer-spending break on PC buying.
"It should be noted that these numbers are compared to a very weak quarter a year ago due to the economic downturn at that time," Gartner said rather blandly of that period a year ago.
The implication is that healthy sales of PCs will mean a healthy quarter for Microsoft, due to report its fiscal-second quarter at the end of January.
Mutual assured connection
Microsoft should certainly expect to see a lift in its own business for the three-months at the end of 2009, given that Windows is the only operating system shipped on the vast majority of the machines sold by Hewlett-Packard, Dell, Acer, and Toshiba.
The results of Microsoft's client business - home to Windows - are inextricably tied to the health of the PC OEMs, because the way most consumers and businesses users get a new copy of Windows is when they get a new PC, instead of buying and installing the new software.
Underscoring this bond were the results Microsoft announced in January 2009, covering the last three months of 2008. Sales in the client business fell eight per cent while income dropped 12 per cent, which helped Microsoft towards a quarterly loss.
Unfortunately for Microsoft, while growth in the PC market might translate into healthy sales, profits are another matter. And judging by the results of the last thee months, there's uncertainty over just how well Windows 7 will excite PC buyers and continue to sell.
One problem for Microsoft is that low-priced notebooks and netbooks drove PC sales over the Holiday shopping period. Netbooks in particular actually hurt Microsoft's profits: consumers may have purchased machines running Windows but they have bought low-priced PCs running low-priced copies of Windows - even Windows XP - instead of versions of the Ultimate SKUs of Windows that typically sell for at least twice the price.
Gartner principal analyst Mikako Kitagawa said in a statement of the US and Asia/Pacific markets: "As economic weakness continued, buyers became extremely price sensitive. Low-priced PCs were good enough for many average consumers."
The surge in sales of netbooks means these low-priced machines could continue to hurt Microsoft during the second quarter.
Microsoft's own actions exacerbate the profits pain. The company has been on a course of aggressive price discounting to grow market share. Home Premium was the war horse of Microsoft's Windows 7 family for consumers and that SKU saw price cuts of between eight and 17 per cent of upgrades and new copies respectively, compared to the Home Premium editions of Windows Vista.
Tactically speaking, Microsoft is trying to make a volume play by selling more copies of the low priced Home Edition to cover the fact people were not buying Ultimate SKUs.
This might work, but Microsoft needs that volume to really kick in.
Complications could hurt the strategy. Microsoft has offered upgrades to Home Premium at $79 under its Microsoft's Windows Anytime Upgrade, and when it comes to students, the company's virtually paying the customer. Students could get Home Premium or Windows 7 Professional for just $30 in the US or £30 in the UK - that compares to the $119 for the Home Premium and $199 for the Professional upgrade and $199 and $299 for the full copies of the products. This offer nicely spanned the Holiday shopping season, closing on January 3, 2010.
As any retailer knows, sales are one thing, profits are another. So it will be interesting to see how far Microsoft's discounting produced the volume needed to translate into profit.
That's the past, but there's also sobering news for the long-term demand for Windows 7. Consumers appeared to be immune to Microsoft's advertising on the operating system and focused purely on price of the PC.
Past is prologue
According tro Gartner's Kitagawa, Windows 7 had not created additional demand for PCs in the last three months. The picture was the same in Europe, where client computing market group principal analyst Ranjit Atwal categorized the impact of Windows 7 on PC sales as "minimal".
"Vendors' efforts to reduce Vista inventory before the Windows 7 launch were not fully successful as there was still an excess of Vista inventories at the beginning of the quarter slowing new shipments," he said.
That fact that Windows 7 had little to no impact on PC sales and buying habits could have important ramifications: It could mean that if consumers are still buying netbooks running Windows XP instead of Windows 7 then Microsoft and PC makers may need to keep offering and supporting Windows XP longer than they'd planned. Don't forget: Windows XP on netbooks means Microsoft makes less money than Windows 7 in general or a copy of Ultimate.
In the long term, it could mean slower-than-anticipated sales of Windows 7 for Microsoft among consumers. Instead, they'll upgrade when they get around to buying a new machine, and if that machine is priced right.
If that is the case, then it means sales of Windows 7 will be like sales of Windows before it: tied to overall demand for PCs as a whole, rather than the latest software specifically running them. ®
Sponsored: Beyond the Data Frontier