PsiXpda pocket computer
Psion of the times?
Left and right mouse buttons appear on the left of the screen and on the right, a completely unmarked touchpad area. These work together well, though their range is necessarily limited. You can point and click at things, but, obviously enough, you can't enter any text. To perform that feat you need the keyboard.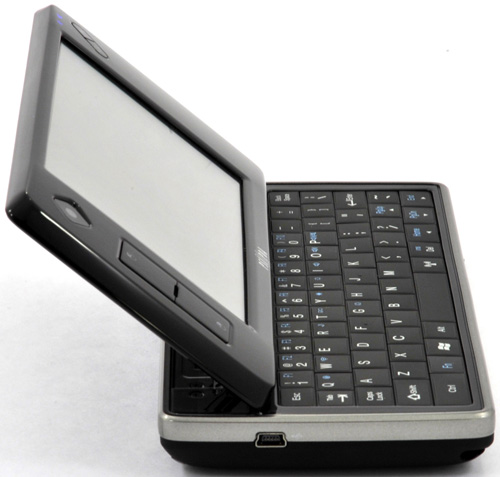 Click to view the slide-up screen image sequence
To access the keyboard you slide the screen section away from you, then pull it up at an angle. The hinges are solid enough to anchor the screen anywhere between flat and about 80 degrees. The mechanism itself feels as though it might not last forever and probably needs to be treated quite gently and with a fair amount of respect.
The keyboard is full Qwerty with the numeric row of keys the same size as the alpha ones. The numeric row doubles up to offer Fn keys. You need a decisive, hard press to register keystrokes, and we found the pressure required was not uniform. This took some getting used to and accurate typing necessitated a quite severely reduced speed. A Fn key combination can toggle backlight on and off which helps when using the PsiXpda in darker conditions.
The 5in screen is sharp and bright, but its 800 x 480 pixels aren't really enough to let you use Windows XP Pro and associated applications efficiently across the board. It was OK for Web browsing, but less so for composing documents.
Writing this article using the copy of OpenOffice that was pre-installed on our review sample was a bit tedious. The text itself renders quite small to the screen and you can't see a lot of document height at any one time. Add in the need for relatively slow typing and, in sheer productivity terms, we'd choose a netbook every time.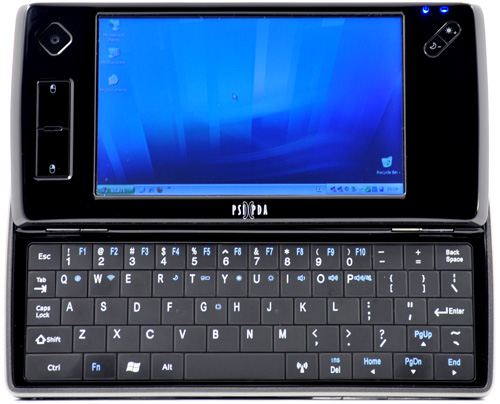 The keyboard responsiveness is somewhat inconsistent
You can set the display to all four screen orientations, thanks to Intel GMA driver for ultra mobile resident in the system tray. We found ourselves using the portrait orientation quite a lot for reading text. One other screen annoyance is worth flagging. When working in standard laptop computer mode, Windows dialogue boxes were sometimes too tall for the screen.