Pentax K-7
Weatherproof sharp shooter with HD video
There's also a secondary monochrome LCD screen on the top, next to the pop-up flash and hotshoe that gives basic operational information. There are two e-dials on the K-7's body, one at the front and the other at the back, which are used for adjusting the shutter and aperture settings.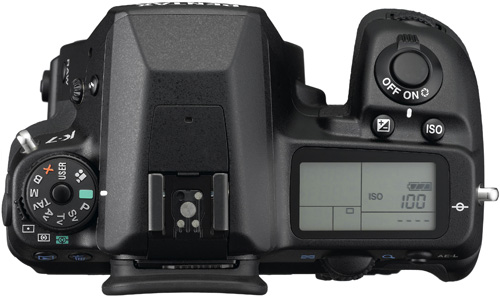 Program options include a Sensitivity mode
The large mode dial has a push-button lock, so you can't accidentally switch modes. There's a wide selection of modes on offer. User mode gives you fast access to your customised settings; green is another name for auto mode; then there's hyper program (more on this below), shutter priority, aperture priority, movie and hyper manual.
And there's more – sensitivity priority automatically selects the optimum shutter speed and aperture for the ISO setting, while shutter and aperture priority does the opposite. Godsend or gimmick? We have to admit to reaching the latter conclusion. You also get a flash sync speed mode. The Hyper modes are so-called because, you can instantly switch from Program or Manual mode, to shutter or aperture priority by simply selecting one of the e-buttons.
Although the K-7 can be used as a point-and-shoot camera, most users are going to want to customise the settings, and the good news is, there are plenty of options. At first sight, the K-7's menu system is rather daunting – the shooting menu has four tabs offering 26 options, the playback menu has a single tab, the set-up menu four tabs, and the custom menu, six tabs covering everything from e-dial settings in various modes to colour temperature steps to the white balance setting when using a flash.
We'll just mention a couple of menu settings that caught our eye. A lens correction setting can be used to rectify lens distortion and lateral chromatic aberration, while a copyright option lets you embed your name in the Exif data. Fortunately, adjusting the most commonly used parameters is pretty fast and painless. There are buttons for adjusting ISO speed (you can use the viewfinder, LCD screen or LCD top panel to view your settings) and selecting RAW.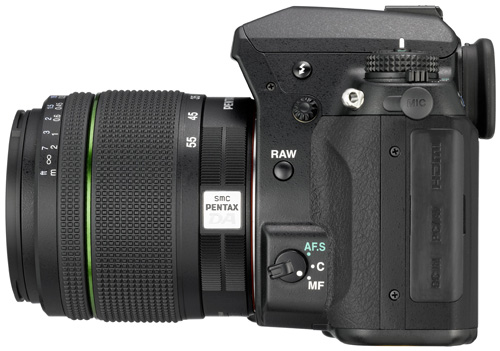 Change file format instantly with the RAW button
An Info button displays parameters such as ISO speed, exposure compensation, file format and image quality. Press the info button again and you can swiftly adjust these and other settings such as digital filters and lens correction. A four-way controller gives you quick access to features such as flash mode, white balance and drive mode.