NuLabour 'Bribo' laptop pops up on eBay
'Primary Drive: To be re-elected'
One enterprising eBayer is offering buyers the chance to get their hands on a "spanking new, gleaming Bribo laptop, complete with instruction sheet showing you where to place your X when the time comes".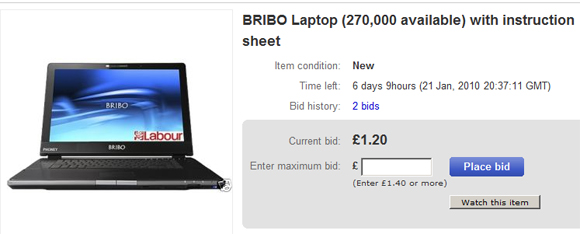 The listing explains:
The government has declared that it will soon issue 270,000 of these Bribos to their core voters so that they may keep up with their children's school progress on the internet, rather than get up off their sofas and walk down to the parent-teacher meetings and ask. In order to exchange them for tax-free CASH, (to allow access to the things that REALLY matter), the inevitable result will be thousands of Bribos listed on eBay shortly after issue, so I am taking this opportunity to list mine now, before the rush.

Bribo is the latest offering in the "class war" series and will be issued exclusively to "low income" families, (i.e. not much money BEFORE benefits are freely distributed to you), so here is a great opportunity for middle-class, rich buyers, (i.e.anyone with initiative or a bit of cash after having paid swingeing tax and NI and not central within Labour's core vote buyers), to get one as well. Yes, yes, we know that you've already paid for these Bribos out of your hard-earned, heavily-taxed income, but that's not the point - after all, who doesn't want the warm glow of satisfaction that comes from paying for a Bribo, ensuring that the money gets to where it's needed - into the pockets of "low income" families, just in time for the general election.
The vendor further explains that the Bribo's browser is "set to the Labour party home page", and includes "full filters and software included to protect the user from harmful on-line experiences, including landing on any page that we consider to be contrary to Labour party targets and anything that doesn't toe the party line".
Sounds good, although there's a touch of the caveat emptor about this deal. Winning bidders must agree in writing they "will use their postal vote for Labour at the forthcoming general election".
The conditions further warn: "This Bribo laptop is an aspiration, not a pledge. We aspire to send it to you, but if you win it, you may not receive it. Stocks are limited and there's currently a rush to get them to as many 'low income' families as possible before the next election is announced. In the case that we are unable to adhere to this aspiration, any moneys that you have paid will not be returned, they will be hosed over poor families or bankers."
Fair enough. If you fancy aspiring to a Bribo laptop, the auction ends on 21 January. ®
Sponsored: Detecting cyber attacks as a small to medium business