Sun, Fujitsu juice entry Sparc box
Yes, Sun still sells servers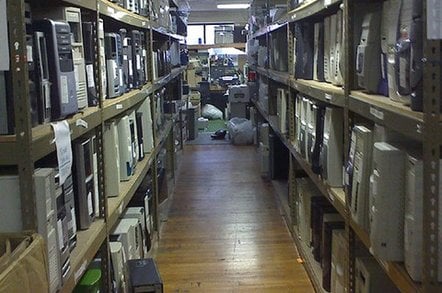 Sun Microsystems and its Sparc chip and server partner, Fujitsu, have have upgraded the entry Sparc Enterprise M3000 rack server with a peppier Sparc64-VII chip.
The M3000 was not part of the original rollout of midrange and high-end Sparc Enterprise servers that the two companies brought to market in April 2007 with dual-core Sparc64-VI processors and that were upgraded to four-core Sparc64-VII processors in July 2008. The original entry machine in the Sparc Enterprise lineup was the four-socket M4000, and there was no single-socket or two-socket versions of the machines.
This gave Sun's own Sparc T1 and T2 series of processors and their T1000 and T2000 servers a purpose in the combined Sun-Fujitsu product line. But with some Solaris customers wanting an entry Fujitsu-style box with faster single-threaded performance than the Sparc T series can offer, the two companies bowed to pressure in October 2008 and delivered the uniprocessor M3000. (The wonder is why there is no two-socket M3500 yet).
The M3000 is a 2U rack-mounted server, and the original version of the machine had a 2.52 GHz quad-core Sparc64-VII and a maximum of 32 GB of memory using 4 GB DDR2 memory modules. The box had four PCI-Express x8 slots for peripheral expansion and four 2.5-inch disk bays. A base configuration with 4 GB of memory, a 146 GB disk, a DVD drive, and a Solaris 10 license cost $15,000 - not exactly cheap for a single-socket server.
The upgraded M3000 announced today sports a 2.75 GHz quad-core Sparc64-VII processor and uses faster and fatter DDR2 memory - up to 64 GB using 8 GB, 667 MHz DIMMs.
The M4000 and M5000 midrange and M8000 and M9000 high-end Sparc Enterprise servers got faster quad-core Sparc64-VII processors back in October 2009. The M4000 and M5000 servers got 2.53 GHz chips, and the high-end M8000 and M9000 machines got 2.88 GHz chips.
Sun is not divulging what it is charging for the M3000 using the new 2.75 GHz Sparc64-VII chip, but it has kept the price of the entry configuration of the M3000 using the 2.52 GHz chip more or less the same while boosting storage capacity. The entry M3000 now has a single 2.52 GHz chip, 4 GB of main memory, and two 146 GB disks for $14,795; boosting memory to 16 GB and keeping all the other options the same raises the price to $24,795, and going up to 32 GB (using four 8 GB DIMMs) raises the price to $38,795.
What Sun did say is that the M3000 using the 2.75 GHz chips delivered up to 23 per cent more performance than the prior chips and 13 per cent better performance per watt. Which means the new Sparc64-VII chip is hotter, as you would expect. Sun is probably charging a premium for the faster chip too.
Bootnote: Sun contacted El Reg after this story ran and said that the new M3000 with the 2.75 GHz Sparc64-VII chip costs $14,795, and that includes 8 GB of memory, two 146 GB disks, and a DVD drive. So it is not charging a premium for more oomph. Imagine that. ®
Sponsored: Becoming a Pragmatic Security Leader