Seagate builds cloud on-ramp for ISVs
Data protection is a cirrus business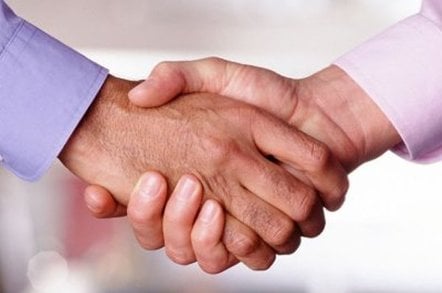 Seagate has added a smooth on-ramp to its i365 cloud by offering an API and connector service to ISVs like CA and C2C.
Typically, Seagate's own on-premises EVault product would suck up data from a customer's servers and storage and whiz it up to the i365 cloud storage vault-in-the-sky. Now Seagate has, in effect, extracted APIs and a service connector from i365/EVault and made it available to independent software vendors (ISVs) wanting to extend their data protection out and up into the cloud.
The ISVs bolt the so-called EVault Cloud-Connected Services Platform onto the backend of their existing applications and, hey presto, they enter into recurring customer service revenue nirvana and make i365 a deal of money too. That's the way EVault sees it anyway.
EVault cloud APIs enable an ISV to integrate its on-premises application with the i365 Cloud through a service connector. This resides on-premises - think SW appliance style - caching data and then sending it cloudwards using deduplication, compression, and bandwidth management techniques to reduce bandwidth usage and the cloud storage space used.
A set of Web services RESTful APIs enable account provisioning, metering and billing.
C2C is adding i365 cloud storage to its ArchiveOne product and CA is connecting ARCserve Backup to the i365 cloud as well. Seagate will be hoping that any and every non-cloud service-aligned backup and protection vendor will do the same thing and thus, through ISV channels, greatly expand its effective i365 cloud channel. We can imagine how ISVS like C2C and CA and others could share the recurring revenue from this with their channel members, giving them the incentive to sell it to their small and medium enterprise customers.
This is a pretty neat strategy and helps give Seagate a counter to the white box sales strategies of suppliers like Spare Backup, who are doing deals with IT retailers like Carphone Warehouse and Comet. It also gives Seagate i365 cloud sales channel bandwidth to counter the strong end-user brand image of suppliers such as EMC's Mozy and Symantec, which is offering its own cloud backup service. ®