Endeavour stays toasty in Florida chill
Warm air purges prevent shuttle catching cold
NASA technicians are keeping space shuttle Endeavour nice and toasty ahead of its forthcoming STS-130 mission to the International Space Station, as Florida enjoys "unusually cold weather".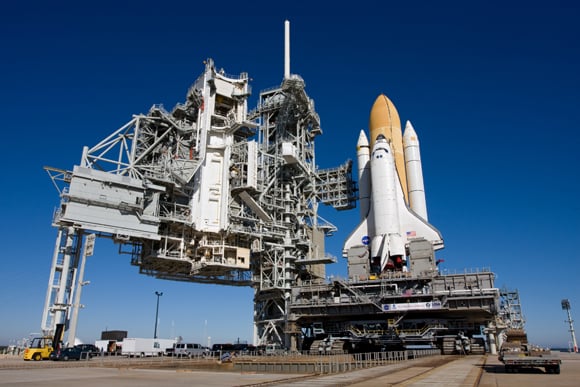 The shuttle is sitting on Kennedy Space Center's launch pad 39A (see pic), protected from catching cold with "heaters and warm air purges" which "keep the spacecraft's systems at an appropriate temperature".
Endeavour is slated to blast off on 7 February, carrying commander George Zamka, pilot Terry Virts and mission specialists Nicholas Patrick, Robert Behnken, Stephen Robinson and Kathryn Hire.
They're tasked with delivering the US's Tranquility node and a seven-windowed cupola destined to be used as a robotics control room. The 13-day mission will feature three spacewalks.
There's more on the crew here, and STS-130 mission summary here (pdf). ®