Popcorn Hour C-200
DIY media centre, anyone?
Review Popcorn Hour made its name with the rather fine, if also rather expensive A100 and A110 media streamers, but now it has cooked up something strange and new that promises to redefine the breed by offering some unique hardware expansion possibilities.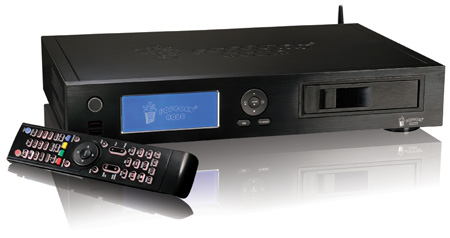 Popcorn Hour's C-200 Networked Media Tank
While most media streamers tend towards the small and dainty, at 425 x 290 x 80mm the C-200 Networked Media Tank is a full-sized lump of a device. Aesthetically, it relates more to the hand-assembled British hi-fi components of the 1990s, rather than the latest generation of painfully sleek and modern TVs or Blu-ray players. In short, it's big, black, bluff and yells 'bloke'. External controls are scarce, further enhancing the retro feel with the front only housing a four way navpad for basic menu navigation, buttons to control the screen brightness and TV signal output, a standby button - the C-200 has a proper on/off switch around the back - and a rather strange looking door about which more below.
The 4.25in display on the front of the C-200 is a pretty dismal 192 x 62 white-on-blue LCD affair which is illegible from much more than a metre away and at any angle above 20 degrees. The only use we could see for it was if you wanted to listen to music and couldn't be bothered turning your TV on to navigate your music library, assuming your AV system is wired up accordingly.
The remote control on the other hand is a lovely thing. It's RF rather than IR, so you can tuck the C-200 out of sight and still use it and its a well made unit with nicely sized, spaced and weighted backlit buttons and oodles of functionality.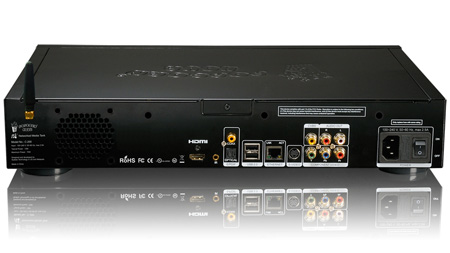 AV connectivity and Ethernet networking with an optional 802.11n Wi-Fi card
The C-200 does well in the connectivity stakes, having five USB ports: one internal, two at the front, two at the back. It also has an HDMI 1.3a socket, component, S and composite video, stereo analog, S/PDIF optical and coaxial digital audio and Gigabit Ethernet. If you want wireless then Popcorn will sell you a 802.11n miniPCI card but, out of the box, you will need to make sure your C-200 is within an Ethernet cable's reach of your router.