Slingbox touts one TV remote to rule them all
Touchscreen with five buttons
CES 2010 It may look like a smartphone, but in real life this is SlingMedia's vision for the future of entertainment control.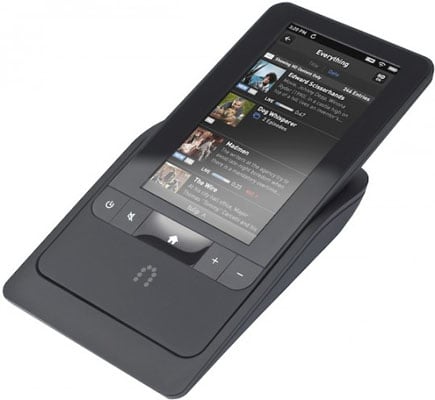 The Sling Touch Control accesses DVR content over Wi-Fi and displays in on the touchscreen
The Sling Touch Control 100 is a set-top box remote in essence, but SlingMedia would rather you saw it as a "next-generation touchscreen device" for accessing an EPG or DVR content.
The gadget communicates with the Slingbox and other DVRs over a Wi-Fi connection, enabling you to search, play, rewind and fast-forward through your networked multimedia collection using only the remote's 4.3in, 272 x 480 capacitive touchscreen. Non-IP devices can be controlled over infra-red.
A bundled docking station allows the Sling Touch Control's integrated lithium-ion battery to be recharged as you use it. The dock tilts upwards at the front end so that, presumably, the control is easier to use while resting on a sofa arm.
SlingMedia plans to sell the Sling Touch Control 100 directly to television service providers, so how the device functions with EPGs (electronic programme guides) will probably vary between providers – though the above image gives you a rough idea.
SlingMedia demonstrates the remote at CES in Las Vegas this week. A launch date hasn't been set. ®
Sponsored: What next after Netezza?