Review Sony recently updated its range of Blu-ray players with the entry-level BDP-S560, which is listed at around £300 on Sony's UK web site, and the BDP-S760 for £400. Shop around online though and both models can be picked up for £80 less.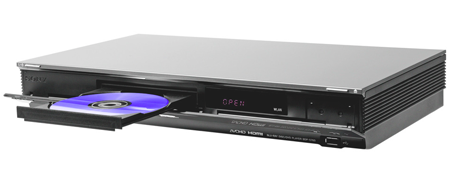 Top gear: Sony's BDP-S760
Yet, despite the mid-range price-tag, Sony describes the S760 as its new 'top of the line' model, claiming that it provides video quality and features previously only found in high-end Sony models such as the BDP-S5000Es, which comes in at over £1000. That's quite a claim, but we have to admit that the S760 really did deliver the goods.
The player makes a good first impression as you lift it out of its box. The unit measures a compact 70 x 430 x 240mm, and is finished off with a neat silvery-grey upper panel and glossy black faceplate. In some ways though, it's the back of the unit that is most impressive – crowded as it is with a plethora of audio and video connectors.
There's HDMI of course, along with composite, component and S-video, stereo audio, optical and coax digital audio interfaces and full 7.1 analogue output as well. That lot should allow you to hook it up to most TVs and audio systems, and includes Dolby TrueHD and DTS HD Master Audio decoding too.
The unit supports BD Profile 2.0, with its Ethernet port accommodating downloads of updates and additional Blu-ray content. It doesn't have any built-in hard disk storage but there's a USB port on the back that allows you to plug in a memory stick or hard disk, as well as a second USB port on the front panel for playing photo slideshows.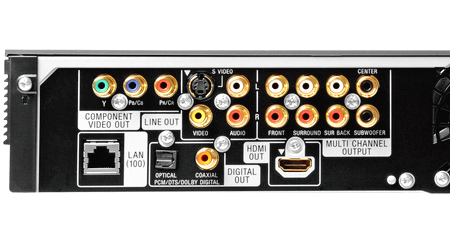 Comprehensive AV interfacing and Ethernet networking
One last connectivity option that isn't obvious from looking at the back panel is the S760's built-in Wireless-N networking, which will be very handy if you don't want a long Ethernet cable trailing from your router to the Blu-ray player in your front room. Yet it's disappointing that the S760 doesn't support playback of digital music and video file formats other than the obvious audio CD, DVD and Blu-ray. Even its DLNA support is limited to displaying photos, which might deter people who have a lot of content stored on a networked media server.
Sponsored: Webcast: Ransomware has gone nuclear