MSI's Pine Trail netbook: 'Do you think I'm sexy?'
WiMax certification too
CES 2010 As expected, MSI rolled out its Intel Pine Trail netbooks at a press event at the Consumer Electronics Show in Las Vegas - but there were a couple of surprises at Tuesday's roll-out.
First, in addition to the MSI Wind U135 we reported last month, there's another 10-inch netbook in MSI's stable: the slim and arguably sexy - if a netbook can ever be said to have sex appeal - Wind U160.
Second, MSI spokesman Mark Olson told The Reg that the U135 is the first Pine Train netbook to be WiMAX-certified by Intel.
The U160, according to MSI, won an iF Product Design award for its trim, wedge-shaped form factor, which measures under one inch at its thickest point.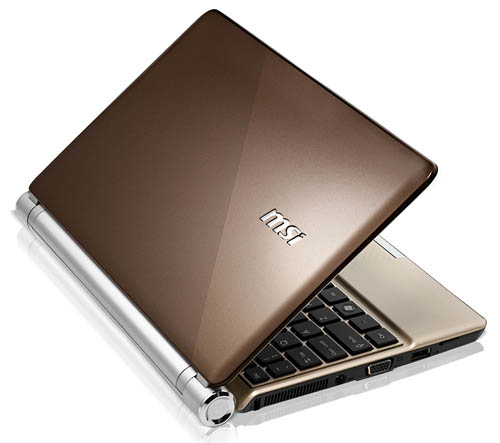 The golden Wind U160 weighs in at either 2.2 pounds or 0.997 kilograms - your call
Both netbooks are based on the Intel Pine Trail Platform and as such feature a single-core, dual-threaded Atom N450 coupled with Intel's new NM10 Express I/O controller chip.
MSI claims that the Pine Trail netbooks will have a battery life of 7.5 hours - slightly less than the 8 hours that Acer claims for its base-model Pine Trail netbook. But these are battery-life estimates, and as we've all learned through painful experience, such claims are always to be taken with a grain of salt.
Specs for the netbooks are no surprise: a 667MHz frontside bus talking to 1GB entry-level and 2GB maximum RAM, and the on-chip GMA3150 graphics core that's also found in the 5.5W N450's new siblings, the 13W dual-core D510 and 10W single-core D410, both designed for entry-level desktops.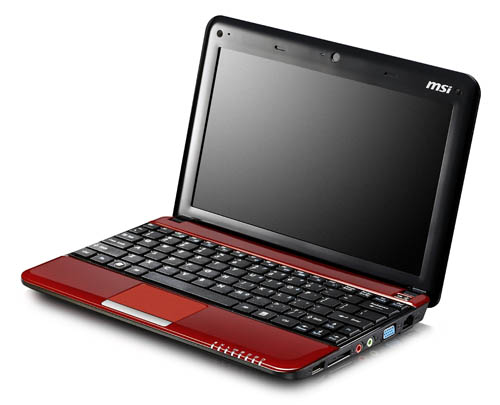 The Wind U135 is available in blue, silver, red, and black
An external USB 2.0 optical drive with the somewhat clumsy name of the "Super-multi drive" will also be available when the new MSI netbooks ship later this month.
The U135 and U160 join the Acer Aspire One AO532 and the new line of Samsung Pine Trail netbooks, and will be soon joined by N450-equipped netbooks from Asus and Dell.
Prices are for the U135 and U160, both of which will ship with Windows 7 Starter Edition, are not yet set, but an MSI spokeswoman told us that the U135 would run between $300 and $400 depending upon configuration, and the U160 would be "around $400." The price for the optional Super-multi external optical drive has not yet been set. ®
Sponsored: Detecting cyber attacks as a small to medium business