Sony slims Walkman's girth
Thinnest model yet
If your New Year's resolution is to pound the treadmill more frequently then a bulky MP3 player won't help. Sony knows this and so has launched its thinnest ever Walkman.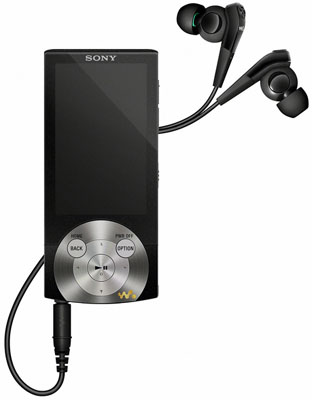 Sony's A845 Walkman: super-slim
Despite sounding like it was named an English road, Sony's A845 Walkman measures just 7.2mm from front to back and, when you unplug the headphones, weighs in at only 62g – roughly the weight of a Mars Bar.
But what the 16GB A845 lacks in girth it makes up for in performance, at least according to Sony. For example, the player features "Clear Stereo" functionality to reduce audio leakage between left and right channels and a feature for automatically recovering audio detail typically lost when CD quality music is compressed into MP3.
The Walkman also displays videos on its 2.8in OLED and Sony has installed a scene scroll feature that lets you skip large sections of movies by breaking them down into thumbnails.
When not watching movies while on the go, you can even connect the A845 into a TV through an optional AV cable for 720 x 480p, 30fps playback.
Elsewhere the A845 Walkman is pretty average. It supports drop-and-drop file transfers from both a PC and iTunes – though the latter requires content transfer software – and audio junkies should get up to 29 hours of musical pleasure before a recharge is required. The A845 has a nine hour video playback lifetime, Sony added.
To keep the player's battery in tiptop firm, an optional Battery Care function can be added to the MP3 player that Sony said optimises overall battery lifespan by limiting charging levels to 90 per cent.
Sony's slender A845 Walkman will be available next month. A price hasn't been rolled out, yet. ®
Sponsored: Becoming a Pragmatic Security Leader