Fig. 3: Sony wants to control cell phones with your face
While Apple strives to prevent us from moving our noggins too much, others hope to put the old grill to work.
Sony Ericcson takes this tact with a patent application published in May that describes how a cellphone could generate a song playlist based on the facial expression of the user.
By detecting specific facial features (smiles, frowns, tears, NRA-4-ever tattoos), the mobile device will generate a playlist to suit the mood.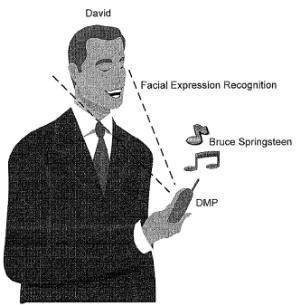 Bipolar disorder sets device to shuffle
As Sony describes it, the device would first play one song and then create a playlist based on the user's reaction gleaned from a camera on the device. Neat. But of course, that's assuming the user is an emotional wreck who's face contorts with passions after a few bars of MMMBop.
Fig. 4: Microsoft wants fat gamers shamed
Several of these patent applications propose ways to reduce movement, but Microsoft wants none of this.
Redmond rounds off the year's best with a patent application designed to make sure that every gamer knows the sexy elf ranger that's helping them slay dragons is in reality a fat troll living in their mother's basement.
The company's patent filing describes an "avatar generator" for a virtual environment that "reflects a physiological characteristic of the user, injecting a degree of reality into the capabilities or appearance." The patent reckons that exposing gamers to shame about their bodies will encourage exercise.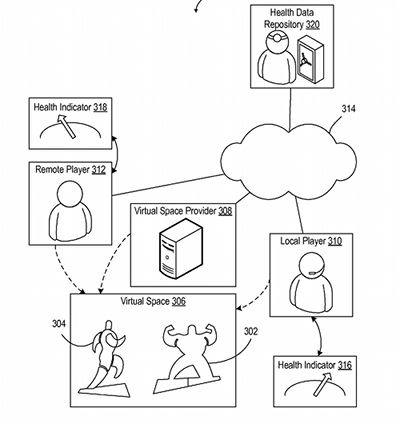 Guitar Fatso
From the patent:
In gaming environments, individuals are able to simulate stunts and performances through their avatar that the real person could not achieve. The challenges and virtual rewards presented reinforce interest in playing. Consequently, those engrossing virtual pastimes have substantially replaced real physical exertion for many people. Unfortunately, excessive amounts of time interactive with video gaming or other virtual programming environments have negative health ramifications. This sedentary outlet provides no avenue or incentive to exercise.
Well, if that ain't the drug dealer calling his customer a wreck. So how does Redmond know your fatty shame? The patent describes that physiological information about gamers could be gathered from third-party health data collection, a health care smart card, or even real-time sensors.
"Physical data that reflects a degree of health of the real person can be linked to rewards of capabilities of a gaming avatar, an amount budgeted to play, or a visible indication," it continues. "Thereby, people are encouraged to exercise." Microsoft says it also could be used to identify "hidden physical characteristics" in fellow gamers such as allergies and other chronic conditions - in case they wanted to form a club of exclusively runny-nosed geeks. And who wouldn't want Microsoft to have access to that kind of personal data?
There you have it folks, some of our favorite patent applications uncovered in 2009. Stay tuned for more terrifying and ridiculous patent claims on the other side of the holiday season. Thanks to the USPTO, wonders truly never cease. ®
Sponsored: Ransomware has gone nuclear