Devolo dLan AVplus
Now with mains power pass-through socketry
Adaptors sharing your mains wiring that don't have buttons pressed during this time can't share data with your ones, so this is one clear way to protect your network if you're concerned that other people in the building - you're in a block of flats, say - may be able to tap into the network because their power lines are linked to yours. Signals shouldn't get past the meter in any case, but if you fear they might, the 128-bit encryption gives some peace of mind.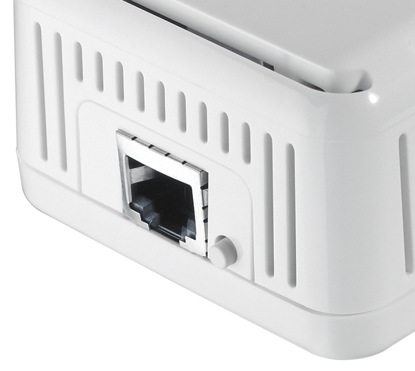 128-bit AES encryption at the push of a button...
To test the Devolo units, we lined them up alongside a set of AVeasy adaptors we use and Belkin's Powerline HD Gigabit units. We first plugged two of each unit into adjacent power sockets and connected one to a MacBook Pro and the other to an Acer Aspire 1810TZ - both gave Gigabit Ethernet ports.
We transferred a 1.4GB file by SMB from the Mac to the Windows 7 machine and timed the result. Unsurprisingly, the Belkin pair maintained the fastest transfer: 72 seconds, or 159.29Mb/s. Curiously, our old Devolo set came next, with a speed of 54.07Mb/s, followed closely by the AVplus units, at 48.62Mb/s.
We got essentially the same numbers when we copied two files simultaneously in each direction. And we also measured the transfer speed of the AVplus adaptors with the two laptops' power bricks slotted into the units' pass-through ports. There was no significant change in performance.
Nor was there any real change when we tried the same file transfer but this time using well-separated power sockets: one upstairs by the router, the other downstairs by the TV. The new Devolos yielded 48.74Mb/s, the old ones 49.22Mb/s and the Belkins 46.7Mb/s.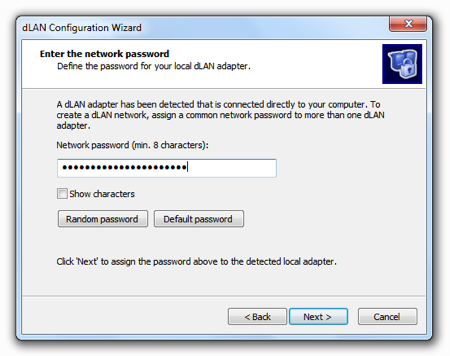 ...or set a password manually
As we noted in our review of the Belkin adaptors, these units drop back to standard 200Mb/s HomePlug AV when the powerline link isn't good enough to support higher but non-standard data rates, and that's clearly shown in the second test.