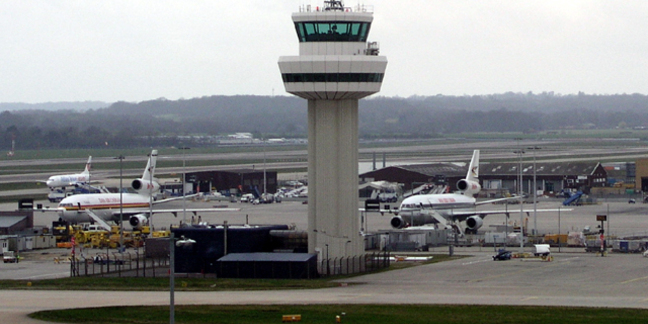 More news on the flying-car front this week, as the UK's National Air Traffic Services (NATS) has announced that it will provide an affordable auto-warning gadget - supported by free downloadable updates - to prevent private pilots infringing controlled airspace and/or crashing into obstacles such as factory chimneys or broadcast antennae.
"Infringements into controlled airspace are a serious safety concern for private and commercial pilots. In the complex airspace over the UK, it is imperative that all aircraft respect airspace boundaries so we can all share the sky safely." says Gretchen Burrett, NATS safety honcho.
"NATS is proud to have been involved with this project which we believe will be a major asset for airspace safety."
Much of the UK is blanketed at differing altitudes by controlled airspace of one kind or another, which private pilots often aren't qualified or permitted to enter. But they sometimes wander into prohibited sky anyway, causing worrying moments for air-traffic controllers and professional pilots nearby. NATS says that there were more than 600 such infringements in 2008.
Thus it is that NATS has teamed with aviation-satnav provider Airbox to develop the AWARE gadget. This uses a GPS receiver to monitor not only the aircraft's ground position but also its altitude, and compares this to a complete database of controlled airspace and tall obstacles, and issues a warning if there's trouble ahead. Updates for the database will be downloadable free from NATS.
The gizmo is metal-cased, features a 4.3-inch sunlight-readable touch screen, and will run for two hours on its internal battery - though an extender package for plugging into cockpit power is recommended. It shows the aircraft's position on a moving map, and optionally can be used to navigate routes as well as warn of trouble.
The navigation feature isn't compulsory, however - NATS is well aware that most private pilots who want to navigate using GPS are already doing so, and are hoping to reach out to the old-school diehards who commit most of the "busts".
"It does not replace map and compass navigation," insists the NATS announcement, "but rather supplements it by aiding a pilot's situational awareness."
The AWARE box is expected to be offered next year from £149, which isn't too expensive for anyone who can afford to fly recreationally.
One of the main arguments against flying cars is that it would be terribly unwise to allow average members of the public to operate powerful machines carrying a frightful amount of kinetic and potential energy - indeed this argument is nowadays used by some against the "general aviation" community of private pilots with only basic skills. For that matter it was used against ordinary cars when they came in.
Thus it is that most flying-car advocates tend to suggest capable autopilot technology, able to more or less fly the aircraft itself with only the most basic input from the human driver.
Autopilots can already navigate a plane from point to point, and if necessary land it hands-off should the pilot suffer a heart attack or something - the so-called "digital parachute" option. Now they are reaching the point of being able to deal with complex air-traffic environments too, if only (thus far) to the extent of avoiding them.
If something like a Terrafugia Transition were fitted with all these already-existing options, it really could be flown quite safely by someone with very little training - hardly more than one needs for a driver's licence. That is of course legally impossible at the moment, however: even a basic US "sport pilot" ticket is much harder to get than a groundcar one.
But it seems as though developments in air safety will mean that the robo-autopilots will be ready as soon as the flying cars are. ®
Lewis Page holds a Private Pilot's Licence, now rather out of date as, having foolishly acquired a family and become a writer at the same time, he is no longer a person who can afford recreational flying. He qualified in the old map/stopwatch/compass days, but gratefully went for GPS as soon as it became obtainable and reliable.
Sponsored: Webcast: Ransomware has gone nuclear