Toshiba MK6465GSX 640GB laptop hard drive
Notebook storage booster
Iometer tells a more nuanced tale. The Read IOPS figures for the two drives are nearly identical, but in Write IOPS the Toshiba has an advantage of 22 per cent. That extra performance is worth having, but Iometer shows that the Hitachi doesn't perform at all badly when the drives are working hard.
Iometer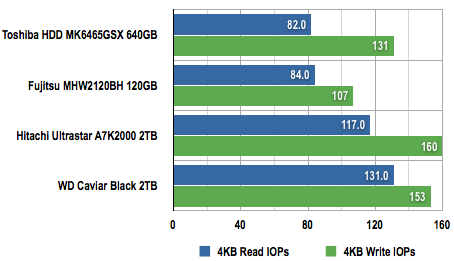 I/O operations per second
Longer bars are better
The Toshiba comes to the fore when the increased areal density can make its presence felt but we thought it worthwhile trying one final test.
The Novatech laptop runs Windows XP. We cloned the drive to the Toshiba and used a stop watch to time Windows startup and shutdown. The Fujitsu took 58 seconds to start and 23 seconds to stop while the Toshiba shaved three seconds off startup and five seconds off shut-down. That's time worth having, but it's not the life-changing experience that you get from an SSD.
Verdict
The £113 price of the 640GB Toshiba is quite steep and that seems like a hefty premium when you consider that a 500GB Toshiba MK5055GSX will set you back just £68. We're not talking about the sort of money that will break the bank, but it's unlikely that you feel a burning need to have 640GB of storage in your laptop rather than 500GB, so it's hard to see why you would pay the extra. Yes, the performance is good but not so much so that it's a 'must have' upgrade. ®
More Storage Reviews...

Hitachi
Ultrastar
A7K2000 2TB

Kingston
SSD Now V
40GB

WD Caviar
Black 2TB

Intel
X25-M
34nm

Toshiba MK6465GSX 640GB laptop hard drive
We like the 640GB Toshiba drive, and it's remarkable that you can slip so much storage inside your laptop. But it costs a lot to break the 500GB barrier.