Sony Vaio X
Spectacularly slim – fat wallets only
Review Sony discovered it had a major problem when the first round of netbooks hit the market in late 2007. Having spent years educating well-heeled consumers that small notebooks were expensive, shoppers were hit by a deluge of small, light laptops that did everything they wanted for a fraction of Sony's traditionally high prices.
Sony's Vaio X series: weight loss comes at a price
Sony finally caved, and produced the tempting, sub-£500 Mini W, which frankly only makes the admittedly beautiful X series even stranger. At £1200 in its cheapest incarnation, it's perhaps the most expensive Atom-powered machine available today - an odd contradiction, since spending more money on a laptop normally results in more power.
Hold the X between a thumb and forefinger, though, and it's clear where Sony's design priorities lie. Netbooks might be small and light, but the X is sensationally thin. It's 14mm thick, weighs under 800g and, internally, has precisely one moving part: a small, but occasionally annoying fan to keep the 1.86GHz Atom Z540 CPU cool.
The pictures really don't do it justice. 800g might not sound terribly impressive but coupled with the incredible thinness you barely hold the X - you pinch it. You'll certainly have no problems slipping it into a small bag and the tiny weight means you won't think twice about taking it everywhere. However, the light design does appear to have impacted on the screen's overall robustness, which feels like it needs to be handled with care to guarantee its survival.
The rest of the ergonomics are necessarily small, but well-formed. The chiclet keyboard has keys which are positively Lilliputian, but we soon got used to them, and the keyboard feels good and solid, which is impressive considering there's hardly anything beneath it. Likewise, the trackpad might only measure 5cm wide, but after our first hour with the X we had no complaints.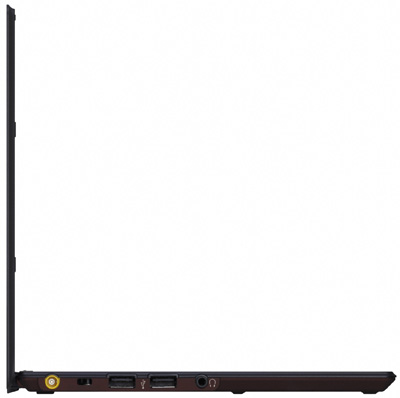 Solid body, but the slim screen seems a bit flimsy
The screen is a good one as well. The X doesn't go the usual Sony route of slapping a glossy finish on the 11.1in screen, and the result is an LCD you can use in almost all lighting conditions. Viewing angles are good as well, and the 1366 x 768 resolution is plenty for the odd bit of office work and - technically - makes the X HD compatible.