Acer A1 Liquid Android smartphone
Niftiest touchscreen around?
Of course Donut is already just a bit passé, what with the release of Android 2.0 or Éclair but we would be surprised if Acer doesn't come across with an update at some point in the New Year. Indeed, some fan sites are already claiming that, come the New Year, the Liquid will start to ship with 2.0 and that Acer will offer an OTA update for existing users.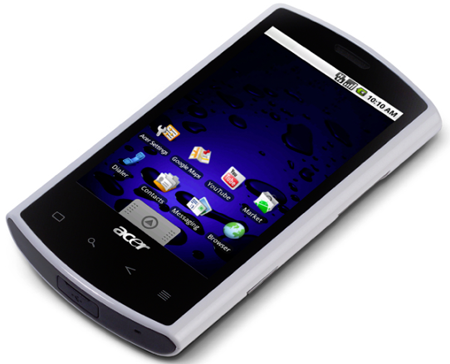 No Windows USB drivers yet, so watch this space
So much for the bells and whistles, but what about the basic phone stuff? Well, in short the Liquid performed faultlessly. Calls sounded clear as a bell both outgoing and incoming and the speaker does a good job if you are worried about getting brain cancer. No problems with the cellular and Wi-Fi radios or GPS receiver either, all of which managed to pull in a strong signal no matter where we were standing.
Battery life is helped by the ambient light sensor, which adjusts screen brightness automatically and Acer's handy power management widget which lets you turn off the Wi-Fi radio, Bluetooth, GPS, system sync and adjust the screen brightness all from the home page. A full charge should see you through the best part of two days assuming no excessive use of the Wi-Fi and GPS. Overall, the Liquid lasts longer than the HTC Hero, which has an identical capacity battery.
At the time of writing, Acer has yet to release official Windows USB drivers for the Liquid. The user guide says they are on the accompanying CD – oh no, they're not. So tethering it to PC could be a problem for the less technically adept. The Liquid also comes with something called a Proximity Sensor – we found the sensitivity settings for it for it while rummaging about in the Call Settings menu – apparently it handles auto turn-off, presumably for calls, yet no mention is made of it in the user guide.
Verdict
The Liquid's social network integration tools are pretty poor when compared to what's on offer from the likes of Motorola, but many of us need nothing more than a good Twitter and Facebook application, both of which can be picked up gratis from the Android Market. As for the lack of nifty HTC-type widgets, well, do you really need a windscreen wiper to appear when your weather app tells you its raining? Indeed, there is something to be said for an OS that hasn't been tarted up like a fifty-dollar hooker. Android as God intended is pretty impressive on the A1 Liquid. ®
Thanks to Expansys for the loan of our review handset
More Android Smartphone Reviews...

T-Mobile
Pulse

Motorola
Dext

HTC
Hero

Vodafone
Magic
Sponsored: Detecting cyber attacks as a small to medium business

Acer A1 Liquid Android smartphone
A combination of racy CPU and the naturally slick Android UI delivers one of the most responsive touchscreen phones on the market.