Acer A1 Liquid Android smartphone
Niftiest touchscreen around?
The Liquid runs Android au naturel so you can forget about those fancy widgets that HTC supplies as part of its SenseMe UI overlay. That also means you only get the standard three home pages rather than the seven HTC offer, which is a more serious loss. What Acer does give users is a selection of media content widgets called Spinlets and built-in social networking integration with the phone's address book called – yes, you guessed it – Acer Social Networking.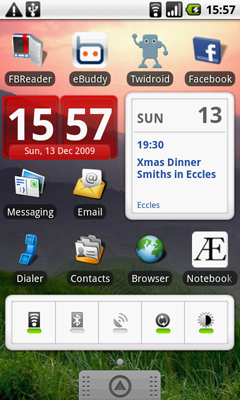 The unadorned Android UI
Neither feature is really up to much though. The social networking gubbins basically lets you tie in a contact's Facebook, Twitter, Picasa, YouTube and Flickr accounts to their address book page. Motoblur it most certainly is not.
More to the point, the system failed to match the majority of our Facebook friends to the relevant address book entries. Despite the names being identical, we were forced to match them up manually. Furthermore, the system won't let you assign Facebook images as address book images. To check for updates you have to open the address book and go look for them.
The Spinlets meanwhile are media-laden widgets which you can share with your social network, but the selection isn't much to shout about and much of the content was pretty dated – two tracks from Dido's Life for Rent, anyone? Despite some of Acer's documentation referring to video Spinlets, the only ones we could access were solely music-based.
While the basic Android UI may look a bit sparse it moves at a fair old clip on just about any handset. When combined with the Snapdragon CPU – even one clocked back a bit, presumably in the name of battery life and only having 256MB of RAM to frolic about in – it makes the Liquid go like a scalded cat.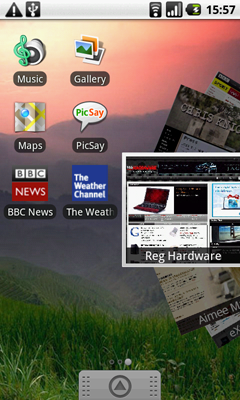 Browsing bookmarks fan out for easy access
Galloping about the Liquid's UI or browsing the web can be done at breathtaking speed and is completely devoid of the lag that the HTC Hero is often criticised for, especially in Android 1.5 guise. Open up an album of hi-res image files and the Liquid really shines, each full page of thumbnails appearing with barely a pause.
Sponsored: Detecting cyber attacks as a small to medium business