El Reg's PARIS programme attracts high-flying sponsor
Peer 1 hops aboard Vulture 1
We're delighted to announce today that our Paper Aircraft Released Into Space (PARIS) programme has attracted sponsorship from Peer 1 - the international hosting firm which has demonstrated it has the Right Stuff by backing our audacious upper-atmosphere plane plan.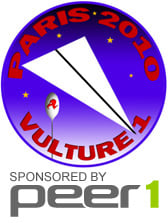 For those of you not up to speed on PARIS, we'll be carrying the Vulture 1 vehicle aloft strung under a weather balloon and main payload package, then releasing it from an improbable altitude.
Peer 1's Dominic Monkhouse described it as "huge privilege to be involved in such a ground-breaking programme" and said he was "looking forward to getting first intelligence back as to optimal location for our next data centre build and creating a galactic peering point."
Asked what attracted Peer 1 to PARIS in the first place, Dominic explained: "I'm a firm believer that we're not the only ones out here, and if that's the case, then there must be a bigger market for hosting I can be first to tap into."
He added: "PEER 1 is all about innovation, doing things better than anyone else and delivering outstanding performance, so we see significant parallels with the quality, engineering and excitement surrounding the Vulture 1 Mission. And, at £121,000 a seat, anyone can get involved with Virgin Galactic; Vulture 1 is far more exclusive."
Of course, releasing paper aircraft into space is not without its risks, but Dominic was upbeat about the mission's prospects. He enthused: "As the great philosopher Derek Trotter once said, 'He Who Dares Wins', so I'm less concerned with risk than with the exciting opportunity Vulture 1 represents to push the boundaries of the possible - one of our core values is 'anything is possible'.
"It's such an important mission for our country in the international space programme that I'm sure landowners would be proud to have been associated with any fallout. And there's always eBay to soften the blow."
Finally, we asked Dominic if he knew anyone diminutive enough to be our Vulture 1 test pilot. He offered: "Wencesleyne Ong is our smallest person, she is tiny, she almost fits on the palm of my hand, so should fit in the cockpit on Vulture 1 without difficulty. Perhaps nominations should be made and put it to a vote. Otherwise, ask Champion, our PR agency – they can't say no and most of them are wider than they are tall."
Wencesleyne Ong, we should explain, is Peer 1's live chat person who pops up on the company's website. Sadly, she's a tad too tall even at an 800x600 screen resolution, so we'll have to give Champion a bell.
Well, this is splendid news indeed, and it's time to get down to it. We haven't been exactly idle over the last couple of months, and now have our main and Vulture 1 payloads specced up, and have a provocative plan for the aircraft release mechanism. We'll give you a full update on Friday. ®
More about our sponsor...
PEER 1 hosts one per cent of the internet, looking after websites for 10,000 global customers. It provides managed hosting and dedicated servers with the best customer service in the industry, no overage fees and connectivity to its 10GB SuperNetwork™.
Sponsored: Your Guide to Becoming Truly Data-Driven with Unrivalled Data Analytics Performance