The UK press has mobilised to express its dismay at a ice cube-making kit which produces miniature Titanics and accompanying icebergs.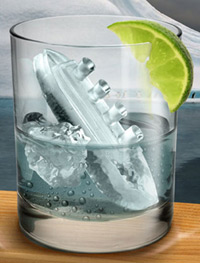 Fred and Friends, the US maker of the The Gin & Titonic, describes the product as an "unsinkable addition to your next party" and invites revellers to "Go ahead...sink another round!"
The Daily Mail, Sun and Telegraph have wasted no time piping aboard historian Brian Ticehurst, who thundered: "They are distasteful. Hundreds of people died in the tragedy. Surely this is the wrong way to remember them? How long will it be before this firm makes ice cubes of the Twin Towers to commemorate 9/11?"
Tim Brant, secretary of the Merchant Navy Association, weighed in with: "It is a bit of a sick idea and it is distasteful to the people who suffered and their families. The sinking of the Titanic is an event that should be commemorated not celebrated."
Fred and Friends spokesman Joe Edmundson defended: "We design housewares that are functional and fun. The Gin & Titonic is quite a good seller around the world. Somebody is always going to be offended by something, especially when it involves humour with a little edge."
The Gin & Titonic is available online for $6.99. We look forward to Fred and Friends' Space Shuttle Challenger novelty firework set ("Guaranteed to make your party go with a bang!") in due course. ®
Sponsored: How to simplify data protection on Amazon Web Services