UK e-car trials kick off with mass motor handover
Minis in Oxford, Mitsubishis in Brum
Leccy Tech Forty leccy Minis were yesterday handed to their owners – well, lessees, to be exact – at the BMW Mini factory in Oxford.
It's all part of the Government's 12-month e-car field trial during which time BMW hopes to "evaluate the psychological, social and technical aspects of living with an electric car."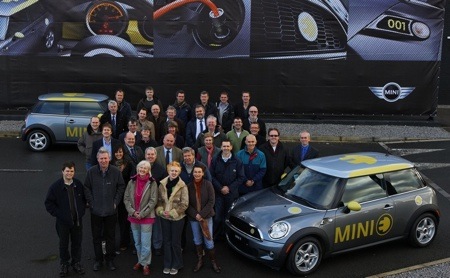 Mini E recipients await their e-cars in Oxford...
In case you haven't been keeping up, each Mini E has an electric motor producing 152kW (204bhp) and 220Nm of torque delivered to the front wheels via a single-stage helical gearbox. That combination gets the Mini to 62mph in 8.5 seconds and on to an electronically-limited top speed of 95mph.
Power comes from a of 35kWh li-ion battery that occupies the space usually taken up by the rear seats. Its range is a theoretical 150 miles.
The weekend also saw 25 lucky people in the West Midlands take delivery of a Mitsubishi iMiEV – tested by Register Hardware here - as part of the same initiative.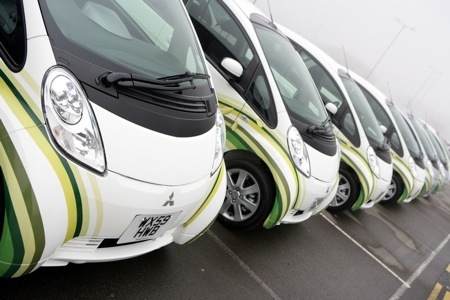 ...while in foggy Brum, iMiEVs await their drivers
But while the Mini drivers only get to keep their cars for six months before handing them over to a new bunch of test subjects, the iMiEV drivers get to hang on to the keys for a whole year.
One of the iMiEV 25, popular TV journalist Quentin Wilson, said: "The Mitsubishi i-MiEV is a forerunner of a transport revolution that eventually will change the world. At last, here's an electric car that doesn't look like a church pew, seats four, does 80 mph and costs less than a quid to charge."
We couldn't have said it better, Quentin. ®