Toshiba Satellite T110
Trying too hard not to be a netbook?
But that doesn't tell the whole story. In use, the T110 didn't feel that much faster than the top-of-the-line netbooks we've used. Partly that's the slow hard drive Toshiba has equipped the T110 with - copying data and installing apps felt more slow than carrying out the same tasks on other notebooks does and not really any different from doing so on netbook.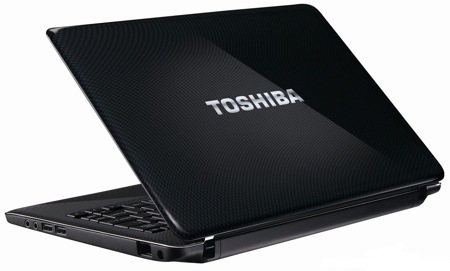 Excellent battery life
Drive and CPU conspire to make the T110 seem generally less responsive than we would have expected - and certainly less so than the Acer 1810TZ.
In fairness, it has to said that the T110 ran for fractionally longer than the 1810TZ did in our battery test. We run PCMark Vantage in a loop until the laptop goes to sleep. We have the screen on maximum brightness, Wi-Fi and connected to a basestation. Comparisons aside, the T110 put in a very good test performance that translates to around eight hours' usage in the real world, and you can't fault that.
Or the software bundle. Toshiba goes to town here, equipping the T110 with a host of utilities for adjusting system settings, keeping your drivers up to date, tweaking the Bios without entering it and even monitoring your laptop's power consumption. TimeLine lists the documents and apps you've used and when you did so, while Board provides a pin-board style UI to access settings and display notes, webpage bookmarks, reminders, widgets and the like.
But here's the thing: Toshiba is currently pricing the T110-11V at £429. That's not in inherently bad price, but when you can buy the smaller, lighter but no less useable Acer 1810TZ with a faster, dual-core CPU for only £21 more, the T110 suddenly doesn't seem such a good deal. You can have the T110-107 for £450. It has a Pentium processor, but again, it has only got one core.
Verdict
Just so no punter mistakes the T110 for a netbook, Toshiba has bulked up this notebook more than it needed to. Still, it's an attractive looking laptop with a wealth of features. If only it was priced more keenly, particularly since it only has a single-core CPU. ®
More Mini-Laptop Reviews...

Acer
Aspire
1810TZ
Recommended

Samsung
N510

Lenovo
IdeaPad
S10-2

Sony
Vaio X
Sponsored: Detecting cyber attacks as a small to medium business

Toshiba Satellite T110
Toshiba has introduced a nice mini-laptop, but hobbled it with a single-core processor when rival vendors have gone dual-core.