Toshiba Satellite T110
Trying too hard not to be a netbook?
The trackpad's buttons, as you'll see from the pictures, are chrome-look plastic and form part of a band that runs around the edge of the laptop's base section. The two mouse buttons are formed from a single piece of plastic pivoted at the centre, and we found that not having a way to differentiate the left- and right-click keys by touch an annoyance. Too often, while looking at the screen, we'd hit the middle of the bar and not trigger a click. The buttons' actions are a little too heavy for us.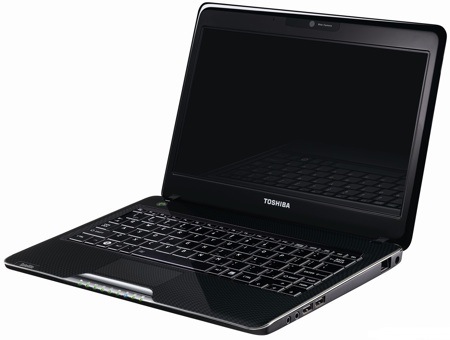 Ethernet, USB and audio on one side...
The trackpad does the basic multi-touch gesture of pinch-to-zoom, and you can use your finger to track a spiral and so rotate pictures, but there's no two-finger scrolling, just pre-determined scroll trigger zones.
The keyboard's a wee bit spongy too, but since there's very little flex, we'll give it out thumbs up.
Unlike the 1810TZ, the T110 has Bluetooth on board, but in most other respects the two machines' hardware essentials are the same. Both have 802.11n Wi-Fi, a VGA port, three USB 2.0 connectors - which can be set to provide power when the laptop's sleeping - a multi-format memory card slot and and HDMI port. They have Intel's GMA 4500MHD graphics core built into their chipset to drive both screen and HDMI.
While the Acer has Gigabit Ethernet, the Toshiba is limited to a netbook-like 100Mb/s. Personally, we'd rather have faster wired networking than Bluetooth, but you pays your money, and we'll pay ours.
There's 3GB of 800MHz DDR 3 memory on board, with the T110's two SO-DIMM slots taken up with memory cards. Both are easily accessible through a hatch in the base of the laptop, as is the 2.5in Sata hard drive, though its door is held down not with Philips screws but hex-headed ones.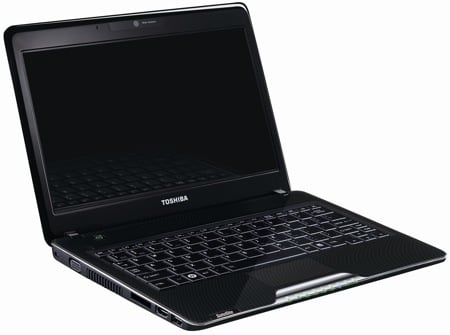 ... plus VGA, HDMI, USB and memory card slot on the other
Like the 1810TZ, the T100 comes with a big battery - 61Wh, in this case. It's not as well integrated into the casing as the Acer's power pack is, but it doesn't bulge excessively out of the back or the base, either. But it brings the T110's maximum thickness to 38mm to the Acer's 30mm. That 8mm may not seem much on paper but it made the Toshiba notebook feel by far the chunkier of the two. It's also wider and deeper.
Sponsored: Detecting cyber attacks as a small to medium business