Emulex gets short-lived FCoE design win
Verari certifies - then 'crashes'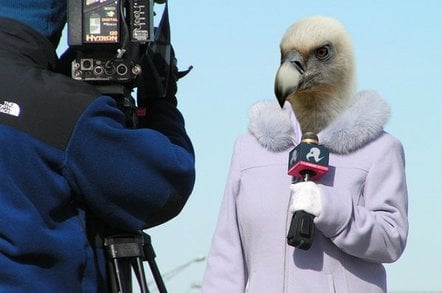 Emulex has finally got its first public Fibre Channel over Ethernet (FCoE) design win, from Verari, which promptly appeared to fall over on Friday.
FCoE sends and receives Fibre Channel storage data traffic over Ethernet, instead of using Fibre Channel wires and switches. For its adoption it relies on a loss-less and low-latency version of 10Gbit Ethernet, known variously as Converged Enhanced Ethernet (CEE) or Data Centre Ethernet (DCE). Its promised benefit is that Fibre Channel SAN storage data data traffic can travel over Ethernet like LAN traffic and share its acquisition and operational cost, which is lower than running both Ethernet and Fibre Channel networks.
For servers to use FCoE they need to have a CNA which replaces separate Ethernet NICs (Network Interface Cards) and Fibre Channel HBAs (Host Bus Adapters). Both Emulex and its main competitor QLogic are developing CNAs and trying to get server suppliers to certify and adopt them. Up until now, Emulex's single chip OneConnect CNA has had no explicit FCoE adoption. It has had adoption as a 10GbitE NIC, usable for iSCSI SAN access, and Emulex is promising to deliver updated firmware that will add TCP/IP offload engine (TOE) functionality as well as FCoE capability.
OEMs such as IBM have certified the 10GbitE OneConnect functionality and made approving noises about the coming FCoE firmware but not explicitly adopted it. In contrast, QLogic has amassed a number of FCoE design wins, with Dell announced on Thursday. Emulex won Verari in the first of what it claims are four FCoE design wins.
But that prize was apparently snatched out of its hands with web, blog and Tweet reports of Verari's demise late on Friday and Saturday.
Verari's FOREST containerised data centres are were going to be shipping with Emulex's OneConnect CNA. A CNA made sense for Verari as it was able to maximise port density and operation on its racked servers. Its SVP for world-wide market operations, Dan Gatti, said: "We chose Emulex's OneConnect UCNA [because it] gives us the ability to support all of the protocols needed by our customers."
Steve Daheb - Emulex's chief marketing officer - was highly delighted, speaking of "unparalleled investment protection and I/O connectivity performance" and customers "cutting costs exponentially and boosting performance to new levels."
He would have been breathing a sigh of relief and looking forward to revealing the next win, Emulex having had enough of QLogic's crowing over its FCoE design wins. Now it seems it's back to square one.
Verari's UK operations were unable to comment on the firm's future.®
Sponsored: From CDO to CEO