Chumby internet-connected alarm clock
Widget-tastic bedside companion
Apparently several Chumby's can be connected over a network so users can share widgets but as we only had the one that's not a claim we could verify.
With an eye on its target audience – affluent Americans in their early teens, we suspect - the Chumby comes with two rather nice Hessian storage bags and a selection of rubber 'charms' that you can attach to the unit's lanyard eye.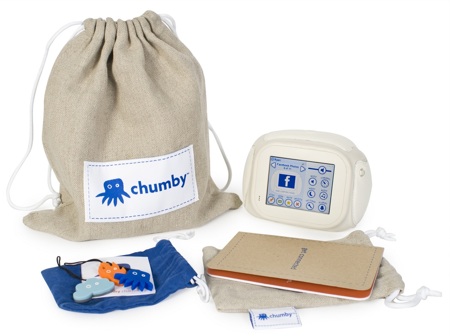 Designed to appeal to folk in their Gap year?
We say 'affluent' because the Chumby retails for £140, which seems a lot for an alarm clock radio - a cheap-as-chips one will cost you six quid from Argos - even one that can present internet-sourced info. Doubly so since the smartphone you already own will probably do all this already.
Before you all charge off to the comments section to tell us the Chumby Classic has been available in the US for 18 months and that the new – but monophonic and altogether less cuddly – Chumby One is now available, yes we know, but the Classic has only just made it to Blighty so it will just have to be added to the list of things that took a while to cross the pond like the Amazon Kindle, Sony Reader and morbid obesity.
Verdict
It would be quite reasonable to dismiss the Chumby as a toy or as the answer to a question nobody asked, but that would be to wilfully overlook its good points and misconstrue its purpose. Think of it as a network connected radio alarm clock with some social networking thrown in, and a plethora of subsidiary and whimsical stuff added for good measure, and it begins to make more sense. Unlike a lot of off-beam gadgets, it also just works. Our only real reservations are the price and the fact that the widget content is rather US-centric. ®
Thanks to Firebox.com for lending us the review unit
More Wireless Gadget Reviews...

Logitech
Squeezebox
Radio

Voiis

Q-Waves
Wireless USB
AV

Sony
Gigajuke
NAS-SC500PK

Chumby internet-connected alarm clock
An odd little box of tricks but not a wholly pointless one. Hardly cheap at £140, but we can see the point of it and wouldn't mind getting one for Crimbo.