Chumby internet-connected alarm clock
Widget-tastic bedside companion
Review The Chumby is one of those strange little gadgets that defies easy categorisation. If we absolutely had absolutely to try to sum it up in half a dozen or so words, it would be: Wi-Fi internet radio alarm clock with widget support.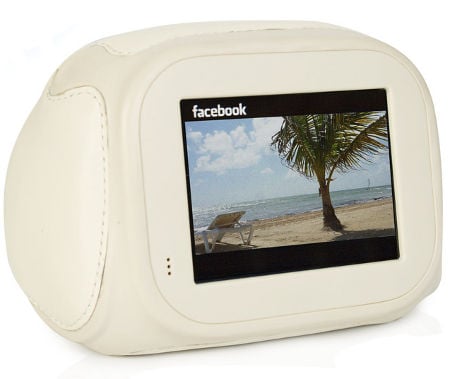 Chumby: internet-connected, squeezable blob
This description applies to a 150 x 100 x 80mm blob with a 3.5in, 320 x 240 touchscreen on the front. We say 'blob' because most of top, sides and back are covered with squeezable padded leather - real animal hide, not plastic. Squeezing the sides has no effect other than to relieve pent-up tension, but press the top and the Chumby's only external control is triggered. It takes you to the main menu screen.
Around the back you'll find a couple of 2W speakers, two USB ports, a 3.5mm headphone jack, the on/off switch and power jack. The Chumby is mains powered so you need to keep it plugged in though there's a back-up battery for the alarm in case of power cuts.
The Chumby's LCD looks crisp, colourful and bright and though it's resistive rather than capacitive, the basic-but-functional UI is slick and well judged with even the lightest of finger touches always registering first time.
Once you have fired your Chumby up and hooked it into your Wi-Fi network, your first stop is likely to be the music menu. This gives you direct access to SHOUTcast, Pandora – for US users only - and a selection of stations grouped together as Radio Free Chumby which immediately got our approval by having Radio Paradise in the number one slot. Podcast fans can access content from Mediafly, CBS and the New York Times.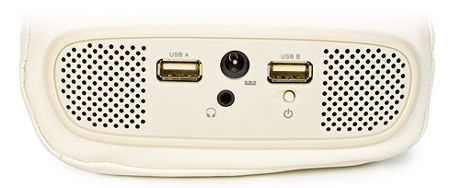 The USB ports can be used to feed music to the Chumby, but not pics or videoes
If none of that takes your fancy, you can add your own radio stations as long as they come in the form of MP3, Ogg, M3U or PLS streams. It's worth pointing out that when it came to trying to get hold of anything from the BBC, we failed horribly. Look on the Chumby forums and you will see some folk claim to get around this by hooking up their Chumby to a Squeezebox Server. But try as we might, we couldn't get our Chumby and server to converse. Not being able to access BBC radio may well be a deal breaker for many potential buyers over here.