Buffalo Linkstation Duo
The paperless office stationery cupboard?
Apart from the irritating network disconnections when using USB peripherals and the loading times in the web configuration interface, the most noticeable disadvantage to the Linkstation Duo is the slow 5400RPM disks, which do impact on performance.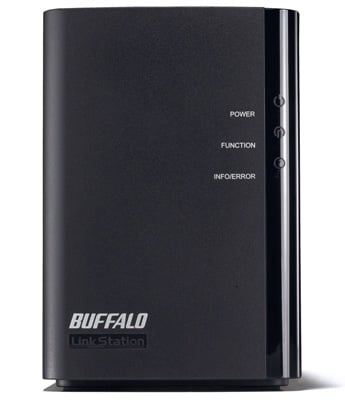 Drives are easily removed for swift upgrading
Grumbles aside, the Linkstation Duo is certainly a solid and reliable NAS, which is more than capable of meeting the average home or small office users daily requirements without unnecessary over complication.
Verdict
Although there are other NAS drives with similar capacities available for less money, the smooth media playback and WebAccess interface could easily make the Linkstation Duo the right choice if you are looking for a no-nonsense plug-in and go solution for data backup and media streaming with future-proofing upgradability. ®
More Network Storage Reviews

LaCie
d2 Network

LaCie
LaCinema Black MAX

Buffalo
Linkstation Pro

EZY Technologies
MyXerver MX3600

Buffalo Linkstation Duo
Not the cheapest but an easily upgradeable, multi-featured Nas with remote web access.
Price:
£210 (1TB), £290 (2TB), £490 (4TB) RRP