Dell bitchslaps Cisco over UCS server play
'Unbelievably Costly System'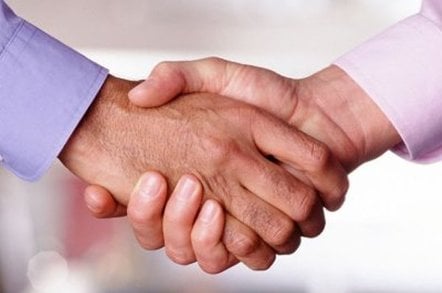 Dell just bitchslapped Cisco over its Unified Computing System, insisting that the networking giant's foray into the server biz suits Cisco's bottom line more than the needs of its customers.
Cisco's UCS is designed to unify networking, computing, storage, and virtualization tools in a single product. Cisco paints it as a means of lowering the all-important Total Cost of Ownership. But Dell vp of enterprise storage and networking Praveen Asthana sees it quite differently.
"UCS just doesn't work for a lot of customers," Asthana told reporters this morning during a briefing in San Francisco. "In the past, I worked for a company that did a lot of vertical systems. What we found is that the economies benefit the company more than customers."
The problem, he says, is that UCS fosters the dreaded "vendor lock-in." Once you adopt Cisco, there's pressure to keep using Cisco. And Cisco ain't cheap. "We have one customer who refers to UCS as Unbelievably Costly Systems," Asthana said.
Asthana was nearly as critical of Acadia, a joint vendor of Cisco, EMC, and VMware that bundles Cisco servers and Ethernet switches with, yes, EMC storage and VMware virtualization. "Whether you're talking about one vendor or three vendors, it still doesn't give customers a choice. Customers still want choice. Restricting them to three vendors is almost as bad as restricting them to one."
Whereas Cisco's offerings are "closed," Asthana says, Dell's are "open." Today, Dell announced what it calls Dell Business Ready Configurations - sets of server, storage, and networking technologies meant to work as a whole - and these include a new Advanced Infrastructure Manager, a single console for allocating and reallocating compute, storage, and network resources for physical and virtual app workloads. Yes, this is part of Dell's "converged" data center offering. But the setup is designed to accommodate hardware and software from myriad vendors.
For example, Dell now has networking partnerships with Brocade, Juniper, and, um, Cisco. "The word 'choice' is very important for our customers," Asthana said. "They like the idea of infrastructure that's converged, because it makes their life easier. They don't like the idea of having all the hardware coming from one vendor."
And so Dell is offering pre-defined compute/storage/network configurations of the converged variety. But you can mix and match as you please. "Our approach is to offer reference architectures, but we don't restrict you to buying everything from Dell," Asthana said.
"There's a difference between a proprietary stack and a reference architecture. We offer what we call demonstration configurations...We say: 'Hey, we're taken a number of components and made sure they work well together. If you want to buy them as a unit you can by pressing one button. But you don't have to. You can add in other components."
Dell even gives you the option of using its systems with Cisco gear. Asthana insists the introduction of UCS has in no way affected the two companies' partnership.
Bootnote
Dell expects its first Business Ready Configurations to be available in the US and Canada "within a quarter," and they're expected to be available in other countries "in 2010." The Advanced Infrastructure Manager is available as a standalone product in the US and Canada today.
Today, the company also added 10 Gigabit Ethernet to its own EqualLogic storage line. The new EqualLogic PS6010 and PS6510 - complete with 10GbE controllers - are expected to be available on December 15 and January 15, respectively.
What's more, Dell will soon offer 10 Gigabit Ethernet converged network adapters for its PowerEdge servers. The Qlogic-based CNA lets you connect PowerEdge machines to Fibre Channel SANs through a 10GbE fabric thanks to FCoE technology.